Physical bank bill rates edged up 1bp to 1.74% this week, as did the 3 month BBSW rate. 
Once again, swap-to-bond spreads generally contracted as swap yields lagged a large rise in Commonwealth bond yields, although yields rose pretty much across all markets. The 3 year spread fell 6bps to 10bps, the 5 year spread fell 4bps to 26bps and the 10 year spread fell 5bps to 15bps. As the chart below indicates, swap spreads do not get much lower than this.
The 1 year swap rate was steady at 1.68%, 3 year rates rose 2bp to 1.70%, the 5 year rate rose 6bp to 1.99%, the 10 year rose 10bps to 2.26% and 15 year rates finished the week up 12bps at 2.47%.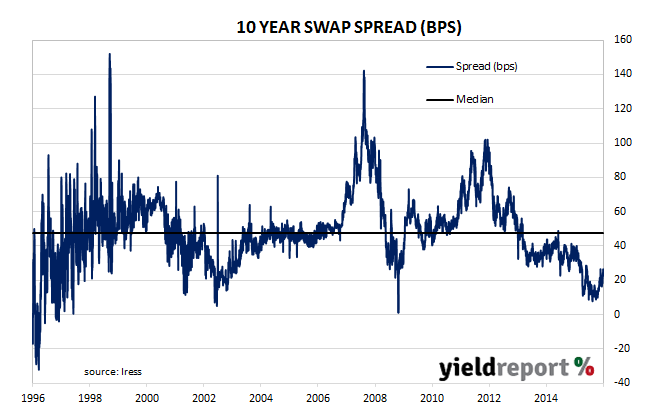 AFMA BBSW - SWAP RATES
| MATURITY | Close | Δ WEEK | Δ MONTH |
| --- | --- | --- | --- |
| 30d | 1.62 | 0.01 | -0.03 |
| 90d | 1.74 | 0.01 | -0.01 |
| 180d | 1.95 | 0.01 | -0.01 |
| 1 Year | 1.68 | 0.00 | 0.00 |
| 3 Year | 1.70 | 0.02 | 0.04 |
| 5 Year | 1.99 | 0.06 | 0.10 |
| 10 Year | 2.26 | 0.10 | 0.16 |
| 15 Year | 2.47 | 0.12 | 0.20 |