NAB hybrids
Some investors are focusing on the turnover of NAB hybrids after the NAB rights issue, with the possibility that some are using the hybrids as a rights funding source. The first chart below looks at the hybrids volume after the rights announcement and several weeks before. There appears to be some volume spike at the announcement date and for another few days earlier this week. Otherwise volumes are only slightly elevated. The second chart shows the trading margins. Since the announcement date, NABPB, NABPC and lately NABHA have widened. However these margin increases are not too different from other bank hybrid margin moves over the same time frame. The Institutional rights offer has closed. Rights trading concluded on 25 May. The retail entitlement offer settles on 10 June.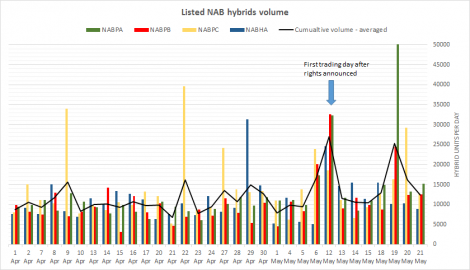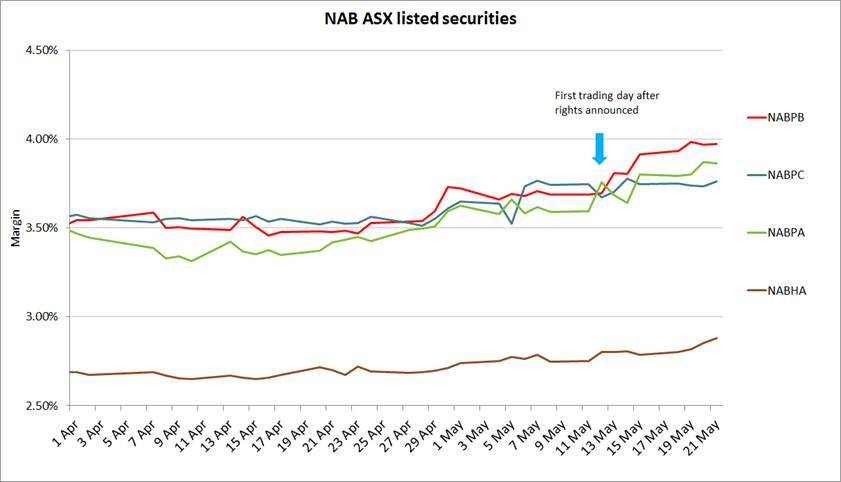 Shorter dated hybrids
With longer dated hybrids struggling, shorter dated issues are still in demand. The chart shows four issues with 8-24 months to expected maturity. ANZPA and WCTPA are moving toward lows sub 2.5% margin. IAGPC however is near highs. Note there is much variation in margins from week to week.
ASX-Listed Hybrids
| COMPANY | CODE | HYBRID TYPE | MATURITY OR STEP-UP DATE | MARGIN INC FRANK | TRADING MARGIN | ∆ WEEK | WEEK CLOSE | YTM Est** | S&P CREDIT RATING COMP/HYBRID |
| --- | --- | --- | --- | --- | --- | --- | --- | --- | --- |
| ANZ Banking Group | ANZPA | MCPS I | 12/16/2016 | 3.10% | 2.71% | -0.08% | 101.5 | 4.84% | AA-/BBB |
| ANZ Banking Group | ANZPC | MCPS II | 09/28/2017 | 3.10% | 3.21% | -0.01% | 100.9 | 5.46% | AA-/BBB+ |
| ANZ Banking Group | ANZPD | MCPS II | 09/01/2021 | 3.40% | 4.00% | 0.09% | 98.21 | 6.25% | AA-/BBB+ |
| ANZ Banking Group | ANZPE | Capital Note | 03/24/2022 | 3.25% | 4.06% | 0.05% | 96.5 | 6.31% | AA-/ |
| Bendigo Bank | BENHB | Perpetual | 10/21/2054 | 1.00% | 2.29% | n/a | n/a | 4.42% | A-/BBB |
| Bendigo Bank | BENPB | Step Up | 06/15/2015 | 1.50% | 3.22% | -3.56% | 99.62 | 5.35% | A-/BBB |
| Bendigo Bank | BENPD | MCPS II | 12/13/2017 | 5.00% | 3.62% | -0.07% | 106.35 | 5.87% | A-/BBB- |
| Bendigo Bank | BENPE | MCPS II | 11/30/2020 | 3.20% | 4.18% | 0.21% | 95.4 | 6.43% | N/A |
| Bank Of Queensland | BOQPD | MCPS II | 04/16/2018 | 5.10% | 3.69% | -0.01% | 104.4 | 5.94% | BBB+/BB+ |
| CBA PERLS 3 | PCAPA | Step Up | 04/06/2016 | 1.05% | 2.64% | -0.07% | 198 | 4.77% | AA-/BBB |
| CBA PERLS 6 | CBAPC | MCPS II | 12/15/2018 | 3.80% | 3.19% | 0.01% | 103 | 5.32% | AA-/BBB- |
| CBA PERLS 7 | CBAPD | MCPS II | 12/15/2022 | 2.80% | 3.95% | 0.05% | 94.15 | 6.08% | AA-/BBB- |
| Challenger | CGFPA | Capital Note | 05/25/2020 | 3.40% | 4.10% | -0.03% | 97 | 6.23% | -/- |
| Elders | ELDPA | Perp'l Pref | 06/30/2051 | N/A | 0.00% | 0.00% | 75 | 0.00% | N/A |
| IAG | IAGPC | MCPS II | 05/01/2017 | 4.00% | 3.29% | -0.02% | 101.61 | 5.54% | A+/A- |
| IAG RES | IANG | Reset pref | 12/16/2019 | 4.00% | 3.28% | -0.12% | 103.95 | 5.41% | A+/BBB+ |
| Macquarie Bank | MBLHB | Income Sec | Perpetual | 1.70% | 3.39% | 0.03% | 76.5 | 5.52% | A/BB+ |
| Macquarie | MBLPA | Capital Note | 03/24/2020 | 3.30% | 3.75% | 0.06% | 98.7 | 6.00% | A/- |
| Macquarie | MQGPA | Capital Note | 06/19/2018 | 4.00% | 3.71% | -0.13% | 103.41 | 5.96% | A-/BBB- |
| Multiplex SITES | MXUPA | Perp'l Pref | Perpetual | 3.90% | 4.99% | 0.10% | 87.7 | 7.12% | BB+/BB |
| Nat Aust Bank | NABHA | Income Sec | Perpetual | 1.25% | 2.85% | 0.07% | 75.81 | 4.98% | AA-/BBB |
| Nat Aust Bank | NABPA | MCPS II | 03/20/2019 | 3.20% | 3.95% | 0.15% | 98.36 | 6.08% | AA-/BBB- |
| Nat Aust Bank | NABPB | MCPS II | 12/17/2020 | 3.25% | 3.99% | 0.08% | 97.53 | 6.12% | AA-/BBB- |
| Nufarm | NFNG | Step Up | Perpetual | 3.90% | 5.02% | -0.11% | 87.49 | 7.27% | BB /B+ |
| Paperlinx | PXUPA | Perp'l Pref | 06/30/2052 | N/A | 8.80% | 0.00% | 8.75 | 11.05% | N/A |
| Ramsay Health Care | RHCPA | Perp'l Pref | Perpetual | 4.85% | 4.43% | -0.06% | 105.89 | 6.68% | BBB/BB+ |
| Suncorp-Metway | SBKHB | Income Sec | Perpetual | 0.75% | 2.13% | 0.08% | 77 | 4.26% | A+/A- |
| Suncorp | SUNPC | MCPS II | 12/17/2017 | 4.65% | 3.64% | 0.01% | 103.6 | 5.77% | A /BBB+ |
| Suncorp | SUNPE | MCPS II | 06/17/2020 | 3.40% | 3.86% | -0.15% | 99 | 5.99% | A /BBB+ |
| Seven Network TELYS 4 | SVWPA | Perp'l Pref | 12/02/2054 | 4.75% | 6.27% | 0.14% | 84.11 | 8.52% | BB+/BB- |
| Westpac | WBCPC | MCPS II | 03/31/2018 | 3.25% | 3.48% | 0.05% | 100.15 | 5.73% | AA-/BBB- |
| Westpac | WBCPD | MCPS II | 03/08/2019 | 3.20% | 3.96% | 0.25% | 98.5 | 6.09% | AA-/BBB- |
| Westpac | WBCPE | MCPS II | 09/23/2022 | 3.05% | 3.87% | 0.04% | 96.14 | 6.00% | AA-/BBB+ |
| Westpac | WCTPA | Step Up | 06/30/2016 | 1.00% | 2.64% | 0.13% | 98.65 | 4.77% | AA-/BBB |
** YTM for floating rate securities is an estimate using current interest rates. This will vary if rates change.
Source: Evans & Partners. Dealing Contact Michael Saba +61 3 9631 9813