Global bond markets went on hold in the lead up to the Jackson Hole symposium and Australia's bond market was no different. Westpac described market conditions as a "grind", with yields trading within "well-tested recent ranges". 3 year bond yields rose 2bps to 1.38%, the 10 year bond yield fell 1bp to 1.86 and the 20 year yield was steady at 2.41%.
Offshore, US Fed officials did their best to sound hawkish. Dudley, Williams and Fischer made statements early in the week such "we are close to our targets" and September's meeting is "in play". Markets did not pay much attention as these officials have said similar things in the past, only for the US Fed to sit still at the next meeting. However, US yields have been inching up and as a consequence, the Australian-US 10 year spread has been trending down. This week the spread continued to do so, with a large fall on Friday as the US finished its working week with higher yields after post-symposium statements from Yellen and Fischer.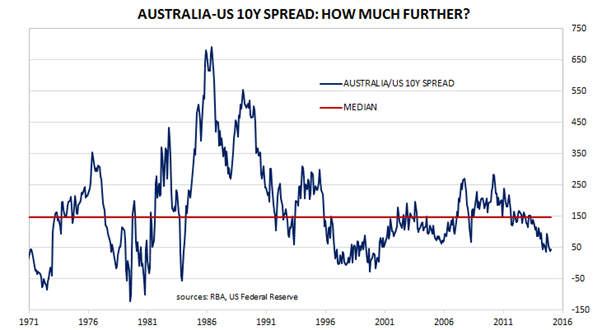 This week AOFM bond sales were again a little different with index-linked bonds issued on top of the standard two vanilla bond issues. $150 million February 2022 ILBs, $1 billion November 2027s and $900 million November 2020s were sold with coverage ratios of 2.6, 1.975 and 2.5333 respectively.
There has been renewed speculation of an Australian 30 year bond.  One day there will be Australian long bonds but as with expected US rate rises, we'll believe it when we see it.
Complete list of government and corporate debt issues
MATURITY
COUPON
(%)
ISSUE
SIZE ($M)
CLOSING
YIELD
Δ WEEK
Δ MONTH
WEEK
HIGH
WEEK
LOW
15-Feb-17
6.00
11828
1.49
0.01
-0.14
1.50
1.48
21-Jul-17
4.25
18900
1.45
-0.01
-0.14
1.47
1.44
21-Jan-18
5.50
20500
1.42
0.02
-0.09
1.43
1.40
21-Oct-18
3.25
18100
1.43
0.02
-0.08
1.44
1.41
15-Mar-19
5.25
22947
1.41
0.02
-0.07
1.41
1.39
21-Oct-19
2.75
21700
1.41
0.02
-0.06
1.42
1.39
15-Apr-20
4.50
23397
1.42
0.02
-0.05
1.42
1.39
21-Nov-20
1.75
15200
1.47
0.02
-0.04
1.48
1.45
15-May-21
5.75
24399
1.52
0.02
-0.04
1.53
1.50
15-Jul-22
5.75
21400
1.61
0.01
-0.03
1.63
1.59
21-Apr-23
5.50
21300
1.68
0.00
-0.05
1.72
1.66
21-Apr-24
2.75
24700
1.76
0.00
-0.05
1.81
1.74
21-Apr-25
3.25
26100
1.82
-0.01
-0.05
1.87
1.80
21-Apr-26
4.25
29100
1.85
-0.01
-0.05
1.90
1.84
21-Apr-27
4.75
25600
1.90
0.00
-0.05
1.95
1.89
21-Nov-27
2.75
10400
1.95
-0.01
-0.05
2.01
1.94
21-May-28
2.25
7000
2.01
-0.01
-0.04
2.06
1.99
21-Apr-29
3.25
12000
2.06
0.00
-0.04
2.11
2.05
21-Apr-33
4.50
10700
2.25
0.00
-0.04
2.29
2.23
21-Jun-35
2.75
5550
2.40
0.01
-0.04
2.45
2.40
21-Apr-37
3.75
8800
2.45
0.01
-0.03
2.49
2.44
21-Jun-39
3.25
4000
2.55
0.01
-0.02
2.59
2.53