June was another tremendous month for bond returns and adding to the quite sizeable year to date returns. Firstly the month of June and with bond yields around the globe rallying, capped off by a flight to safety after the successful Brexit vote for the UK to leave the European Union. With the yield curve flattening (longer dated bonds falling by much more than shorter dated bonds), it favoured government bonds and they didn't disappoint. The government bond index returned 1.80% for the month and 5.40% year to date – both significantly more than equity market returns. In demonstrated amply why portfolios should have bonds. They protect capital and provide good returns in times of stress.
The next best performer for June was the composite bond index returning 1.327%. This was also the second best performer year to date with 4.97%. Next cab off the rank was the semi government bond index that returned 1.04% for June and 4.80% for the year to date. Corporate bonds returned 0.73% for the month and 3.79% year to date.
Bond returns in the first half of the year are the strongest they have been for over 20 years as can be seen from the chart below.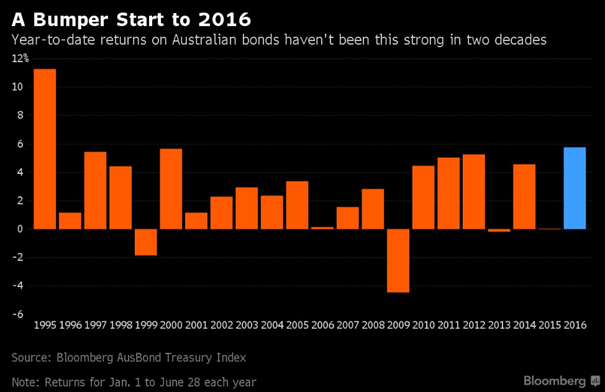 Bloomberg
| Security | 1m Return (%) | 12m Rolling Return (%) |
| --- | --- | --- |
| Bank Bill | 0.165 | 2.24 |
| Composite Bond | 1.327 | 7.02 |
| Government Bond | 1.803 | 7.88 |
| Semi-Govt Bond | 1.038 | 7.08 |
| Corporate Bond | 0.728 | 5.34 |
| FRN | 0.089 | 2.71 |