There were two changes to our list of cash account interest rates this week. Both the RAMS Saver and the Westpac eSaver accounts had their respective rates reduced by 20bps.
There were quite a few domestic data releases, a mixture of private and official reports, including third quarter GDP numbers. Two private reports, ANZ's job ads survey bodes well for employment growth in comings months, while the Melbourne Institutes's Inflation Gauge rose again, this time to 2.7%.  A day later, weak October retail sales figures were released on the same day the RBA held the cash rate steady at 1.50%. The third quarter current account deficit was little lower than in the second quarter (around $9 billion), which helped third quarter GDP figures even though they were a little under the expected figure. At the end of the week, the finance approvals report showed approvals for house residential property lending slowed during October.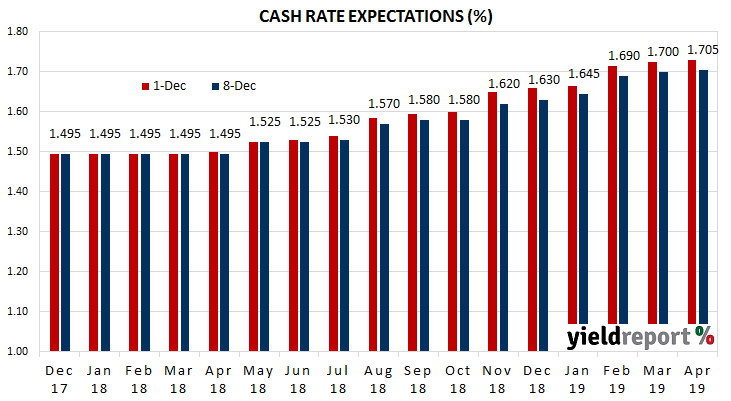 After digesting all of this, traders in the cash market decided the likelihood of a rate rise anywhere in the next eighteen months had become decidedly slimmer. Prices still implied some chance of a rate rise but in recent weeks the probability has been consistently wound back. A rate rise six months from now, in May 2018, is thought to be a 10% chance. The likelihood increases to 28% for an August rise, a November 2018 rate rise has been assigned a 48% probability while February 2019 has a 76% probability.
See our table below for a comparison of the latest cash account rates.
CASH ACCOUNTS
| Product | Interest Rate p.a. | Special Conditions |
| --- | --- | --- |
| AMP Saver Account | 2.10% | 31 days' notice |
| AMP Notice Account | 2.15% | |
| ANZ Premium | 1.50% | |
| ANZ Progress Saver | 1.81% | Minimum $10 deposit and no withdrawal per month |
| Arab Bank Online Savings | 1.90% | Minimum balance $500,000. |
| Bankwest Smarter eSaver | 1.70% | On balances from $500,000 to $5,000,000. No withdrawal per month |
| BoQ Cash Man Account | 1.45% | Minimum balance $5000. |
| BoQ Bonus Interest Savings | 2.20% | 1 withdrawal per month. |
| CBA NetBank Saver | 1.00% | |
| CBA Goal Saver Account | 2.50% | On balances of $250,000 - $999,999. Minimum $200 deposit and no withdrawal per month. |
| CUA eSaver Plus Account | 2.70% | Limit $100,000. Minimum $1000 deposit per month. |
| Heritage Online Saver | 2.15% | Minimum balance $750,000 |
| ING Savings Accelerator | 2.20% | Minimum balance $150,000 |
| Macquarie CMA | 1.30% | |
| ME Online Savings | 1.30% | |
| NAB iSaver | 1.05% | |
| NAB Reward Saver | 2.50% | 1 deposit and no withdrawal per month |
| RAMS Saver Account | 2.80% | On balances from $200 - $500,000. Minimum $200 deposit and no withdrawal per month |
| Suncorp eOptions | 1.55% | |
| uSaver | 1.81% | Limit $200,000. Minimum $200 deposit per month. |
| uSaver Ultra | 2.87% | Limit $200,000. Minimum $200 deposit per month. |
| Westpac eSaver | 0.80% | |
| Westpac Reward Saver | 1.50% | Minimum $50 deposit and no withdrawal per month |