There were no changes to our list of cash account interest rates this week.
It was another week busy with domestic economic data. NAB's September business survey confirmed Australia's business  sector was still experiencing decent conditions and there are even tentative signs Australian consumers may be starting to feel the same way.
August house finance approvals figures may make APRA and the RBA a little nervous should property investors continue their demand for finance on through to coming months, although the RBA did its best to allays concerns regarding both borrower and lender resilience in its October Financial Stability Review at the end of the week.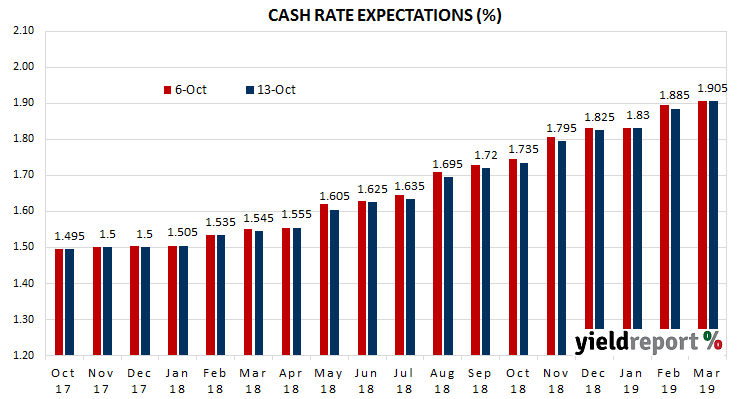 As a result, there was not much change to traders' views of where the cash rate would go for the rest of 2017 and during 2018. No change is expected in November and February 2018 is still rated as a 1-in-7 chance. May has slipped   a little as a rate rise month and it is now a 42% chance bet while August is seen as a likely candidate at 78% and a rate rise is fully factored in for November.
See our table below for a comparison of the latest cash account rates.
CASH ACCOUNTS
| Product | Annual Interest Rate | Special Conditions |
| --- | --- | --- |
| AMP Saver Account | 2.10% | |
| AMP Notice Account | 2.15% | |
| ANZ Premium | 1.50% | |
| ANZ Progress Saver | 1.81% | Minimum $10 deposit and no withdrawal per month |
| Arab Bank Online Savings | 1.90% | Minimum balance $500,000. |
| Bankwest Smarter eSaver | 1.70% | On balances from $500,000 to $5,000,000. No withdrawal per month |
| BoQ Cash Man Account | 1.45% | Minimum balance $5000. |
| BoQ Bonus Interest Savings | 2.20% | 1 withdrawal per month. |
| CBA NetBank Saver | 1.00% | |
| CBA Goal Saver Account | 2.15% | On balances of $250,000 - $999,999. Minimum $200 deposit and no withdrawal per month. |
| CUA eSaver Reward Account | 2.70% | Limit $100,000. Minimum $1000 deposit per month. |
| Heritage Online Saver | 2.15% | Minimum balance $750,000 |
| ING Savings Accelerator | 2.20% | Minimum balance $150,000 |
| Macquarie CMA | 1.40% | |
| ME Online Savings | 1.30% | |
| NAB iSaver | 1.05% | |
| NAB Reward Saver | 2.55% | 1 deposit and no withdrawal per month |
| Rams Saver Account | 3.00% | On balances from $200 - $500,000. Minimum $200 deposit and no withdrawal per month |
| Suncorp eOptions | 1.60% | |
| uSaver | 1.81% | Limit $200,000. Minimum $200 deposit per month. |
| uSaver Ultra | 2.87% | Limit $200,000. Minimum $200 deposit per month. |
| Westpac eSaver | 1.00% | |
| Westpac Reward Saver | 1.50% | Minimum $50 deposit and no withdrawal per month |