Corporate bond spreads were a tad tighter on average as the majority of corporate spreads tightened. Other measures of corporate risk moved consistently; swap-to-bond spreads were 1-2bps tighter and the iTraxx Australia Series 28 index fell from 65.4 to 63.5.
Over half of the value of transactions in the primary market for corporate bonds were the result of two bank transactions. Westpac's USD$1.75 billion (AUD$2.3 billion) transaction comprised two tranches which mature in 2022; a USD$1.25 billion fixed tranche priced at trasurys + 63bps and a USD$750 million floating rate tranche priced at LIBOR + 57bps. Macquarie went for three tranches which added up to $1 billion; $250 million December 2027s at Swap + 162bps, $425 million December 2022s at Swap  +115bps and $325 million December 2022 FRNs at BBSW + 115bps.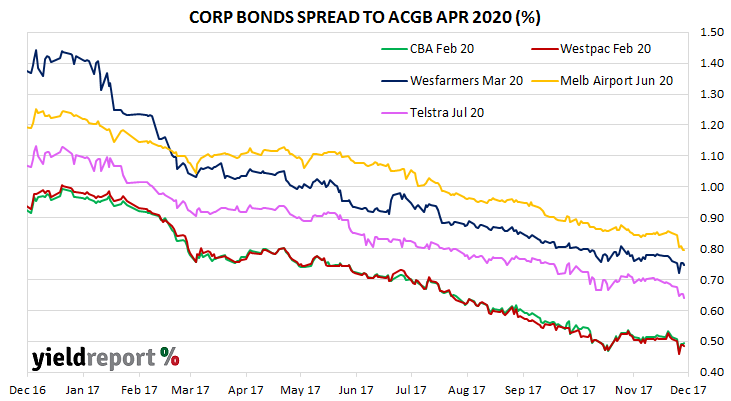 Other transactions of note included the issue of $100 million 7 year FRNs at BBSW + 104bps by ETSA Utilities Finance and the University of Melbourne's $100 million 25 year bonds at Swap + 126bps.
In the ABS market, there were three transactions which raised a total of $1.8 billion. Pepper Financial raised $400 million and AMP raised $1.1 billion by issuing RMBS. Thinktank raised $300 million by selling 8 tranches of commercial mortgage-backed securities with the largest A1 tranche priced at 1m BBSW  +145bps.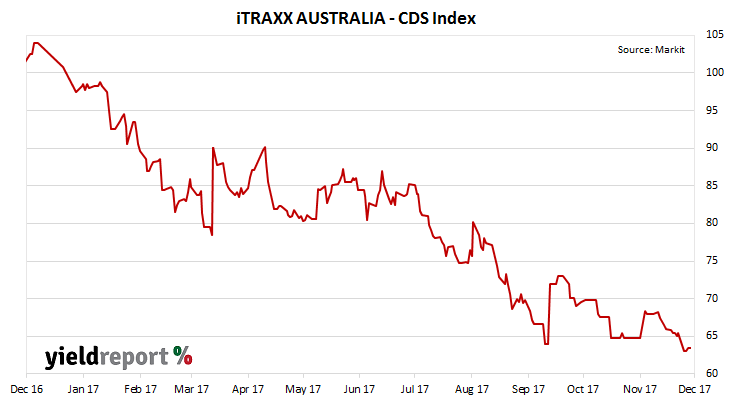 The kangaroo market recoverd from the previous week which was particularly quiet as Vodaphone made a return after a lengthy absence. The three tranche bond issue totalled $1.15 billion and it comprised $450 million December 2027s at Swap + 165bps, $200 million December 2022s at Swap +105bps and $500 million December 2022 FRNs at BBSW + 105bps. The last time Vodaphione issued bonds in the kangaroo market was in 2006. Regular issuers Rentrenbank, Nordic investment Bank, the Province of Alberta and L-Bank were responsible for the balance of the transactions.
Interested readers can find more details as well as other bond transactions in our tables via the link below.
Click here for new debt issues
AUSTRALIAN CORPORATE BONDS
ISSUER
MATURITY
COUPON (%)
RATING
WEEK
HIGH
WEEK
LOW
CLOSING
YIELD
Δ WEEK
Δ MONTH
Westpac
24-Jan-18
4.25
AA-
1.84
1.79
1.84
0.06
0.04
CBA
25-Jan-18
4.25
AA-
1.85
1.80
1.85
0.06
0.05
NAB
7-Mar-18
7.25
AA-
1.88
1.86
1.88
0.03
0.03
ANZ
17-Apr-18
4.25
AA-
1.94
1.92
1.94
0.03
0.04
NAB
23-May-18
4.00
AA-
1.93
1.92
1.93
0.01
0.03
Sydney Airport
6-Jul-18
7.75
BBB
2.28
2.26
2.26
-0.01
0.03
ANZ
6-Nov-18
4.50
AA-
2.06
2.03
2.05
0.00
0.02
Lendlease
13-Nov-18
5.50
BBB-
2.58
2.57
2.58
0.01
-0.06
Telstra
13-Nov-18
4.50
A
2.23
2.19
2.20
-0.02
-0.04
Westpac
25-Feb-19
4.50
AA-
2.15
2.12
2.14
0.01
0.01
Woolworths
21-Mar-19
6.00
A-
2.43
2.41
2.43
0.02
-0.06
Wesfarmers
28-Mar-19
6.25
A-
2.41
2.38
2.39
0.01
-0.07
CBA
24-Apr-19
4.25
AA-
2.19
2.15
2.18
0.01
-0.01
Brisbane Airport
9-Jul-19
8.00
BBB
2.81
2.78
2.81
0.03
0.02
Apple Inc
28-Aug-19
2.85
AA+
2.29
2.24
2.27
0.00
-0.05
Stockland
6-Sep-19
5.50
A-
2.69
2.66
2.68
0.01
-0.02
DBNGP
11-Oct-19
6.00
BBB-
3.25
3.02
3.22
0.21
0.24
Westfield Retail
23-Oct-19
5.00
A
2.68
2.65
2.68
0.04
0.03
CBA
5-Feb-20
7.25
AA-
2.38
2.33
2.36
0.00
-0.05
Westpac
11-Feb-20
7.25
AA-
2.37
2.33
2.35
0.00
-0.06
Wesfarmers
12-Mar-20
4.75
A-
2.64
2.59
2.61
0.01
-0.09
Qantas
27-Apr-20
6.50
BB+
3.16
3.08
3.09
-0.03
-0.16
Lendlease
13-May-20
6.00
BBB-
3.09
3.06
3.08
0.02
-0.15
Melbourne Airport
4-Jun-20
5.00
A-
2.72
2.64
2.66
-0.03
-0.14
Telstra
15-Jul-20
7.75
A
2.56
2.49
2.50
-0.01
-0.10
Perth Airport
23-Jul-20
6.00
BBB
3.01
2.98
3.00
0.03
-0.08
Mirvac Finance
18-Sep-20
5.75
BBB+
3.06
3.00
3.06
0.07
0.03
Brisbane Airport
21-Oct-20
6.00
BBB
3.08
3.03
3.08
0.06
-0.01
Australia Post
13-Nov-20
5.00
AA
2.71
2.69
2.71
0.03
-0.01
Stockland
25-Nov-20
8.25
A-
2.93
2.88
2.91
0.03
-0.03
University of Sydney
16-Apr-21
4.75
Aa1
2.66
2.60
2.61
0.01
-0.07
Telstra
19-Apr-21
2.90
A
2.78
2.70
2.71
-0.01
-0.11
NAB
24-Mar-22
3.25
AA-
2.86
2.80
2.83
0.02
n/a
CBA
30-Mar-22
3.25
AA-
2.95
2.89
2.92
0.11
n/a
Apple Inc
28-Aug-22
3.70
AA+
2.81
2.72
2.73
-0.02
-0.21
Melbourne Airport
15-Sep-22
4.00
A-
3.25
3.19
3.19
0.00
-0.16
Telstra
16-Sep-22
4.00
A
2.97
2.88
2.89
-0.01
-0.18
CBA
27-May-24
4.75
AA-
3.15
3.06
3.07
-0.22
n/a
Wells Fargo
27-Aug-24
4.75
A+
3.42
3.35
3.38
0.00
-0.29
University of Sydney
28-Aug-25
3.75
Aa1
3.35
3.30
3.34
0.05
-0.09
Westpac
4-Jun-26
4.13
AA-
3.59
3.50
3.51
-0.02
-0.24
Apple Inc
10-Jun-26
3.60
AA+
3.27
3.18
3.19
-0.02
-0.32
CBA
11-Jun-26
4.20
AA-
3.57
3.48
3.49
-0.02
-0.26
ANZ
22-Jul-26
4.00
AA-
3.56
3.48
3.52
0.00
-0.25
NAB
21-Sep-26
4.00
AA-
3.70
3.61
3.63
0.00
-0.14
Qantas
12-Oct-26
4.75
BB+
4.21
4.12
4.12
-0.03
-0.43
CBA
17-Nov-26
3.25
AA-
3.52
3.42
3.43
-0.04
-0.25
Australia Post
1-Dec-26
4.00
AA
3.65
3.59
3.59
0.01
-0.20
Telstra
19-Apr-27
4.00
A
3.73
3.64
3.64
-0.03
-0.27