Corporate bond spreads were tighter on average again this week and the median spread decreased by nearly 1.5bps. More spreads rose than fell, but the magnitude tended to be markedly greater among the ones which fell. For instance, NAB September 2026's spread dropped by 15bps and the spread on Qantas October 2026s fell by 12bps.
Movements in other indicators of corporate risk were vaguely contradictory but they were small in size and not much should be read into them. Swap-to-bond spreads were tighter but the iTraxx Australia Series 28 index was 0.8 points higher at 69.8.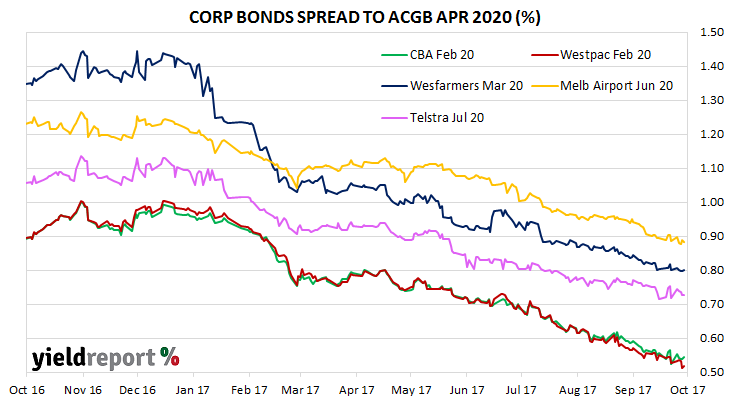 Primary market transactions were dominated by residential mortgage-backed securities (RMBS) and kangaroo  bonds. In the RMBS market, Heritage Bank offloaded $750 million worth of mortgages via its HBS 2017-1 Trust with the largest Class A1 tranche worth $690 million and priced at 1m BBSW + 107bps. Citigroup then offloaded $1.631 billion RMBSs via its SAM 2017-1 trust. The largest class A1 tranche was worth $1.5 billion and it was priced at 1m BBSW + 97bps.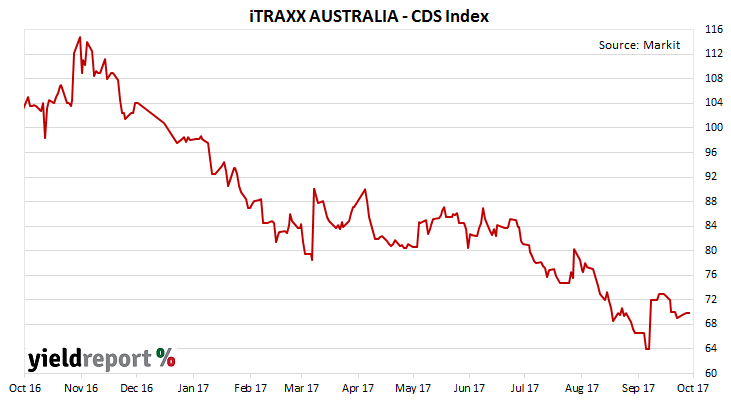 In the kangaroo market, activity picked up to more usual levels and around 1.4 billion worth of bonds were issued. Spark Finance made its debut and raised $150 million, while 10 year bond sales by regular issuers (Export Development Canada, KfW Bankengruppe, Asian Development Bank and Auckland Airport) made up most of the balance.
The only local corporate transaction was United Energy Distribution's issue of $170 million October 2024s at Swap + 125bps.
Interested readers can find more details as well as other bond transactions in our tables via the link below.
Click here for new debt issues
AUSTRALIAN CORPORATE BONDS
ISSUER
MATURITY
COUPON (%)
RATING
WEEK
HIGH
WEEK
LOW
CLOSING
YIELD
Δ WEEK
Δ MONTH
Telstra
15-Nov-17
4.00
A
1.84
1.84
1.84
-0.06
-0.17
HSBC
16-Nov-17
4.25
AA-
1.88
1.88
1.88
0.00
-0.06
Westpac
24-Jan-18
4.25
AA-
1.89
1.83
1.83
-0.02
-0.10
CBA
25-Jan-18
4.25
AA-
1.87
1.86
1.86
0.01
-0.07
NAB
7-Mar-18
7.25
AA-
1.93
1.92
1.92
0.02
-0.06
ANZ
17-Apr-18
4.25
AA-
1.96
1.93
1.95
0.01
-0.03
NAB
23-May-18
4.00
AA-
1.97
1.96
1.96
0.01
-0.04
Sydney Airport
6-Jul-18
7.75
BBB
2.32
2.27
2.31
0.03
-0.01
ANZ
6-Nov-18
4.50
AA-
2.12
2.11
2.11
0.01
-0.03
Lendlease
13-Nov-18
5.50
BBB-
2.73
2.73
2.73
0.02
-0.03
Telstra
13-Nov-18
4.50
A
2.33
2.33
2.33
0.03
-0.02
Westpac
25-Feb-19
4.50
AA-
2.23
2.21
2.21
-0.03
-0.02
Woolworths
21-Mar-19
6.00
A-
2.60
2.58
2.58
0.00
0.00
Wesfarmers
28-Mar-19
6.25
A-
2.57
2.55
2.55
0.00
0.01
CBA
24-Apr-19
4.25
AA-
2.30
2.29
2.29
0.00
-0.01
Brisbane Airport
9-Jul-19
8.00
BBB
2.92
2.91
2.91
0.03
0.02
Apple Inc
28-Aug-19
2.85
AA+
2.42
2.41
2.41
0.01
0.03
Stockland
6-Sep-19
5.50
A-
2.81
2.81
2.81
0.03
0.03
DBNGP
11-Oct-19
6.00
BBB-
3.31
3.10
3.27
0.17
-0.03
Westfield Retail
23-Oct-19
5.00
A
2.80
2.80
2.80
0.06
0.03
CBA
5-Feb-20
7.25
AA-
2.55
2.54
2.54
0.01
0.04
Westpac
11-Feb-20
7.25
AA-
2.55
2.51
2.51
-0.02
0.03
Wesfarmers
12-Mar-20
4.75
A-
2.81
2.80
2.80
-0.01
0.04
Qantas
27-Apr-20
6.50
BB+
3.36
3.35
3.35
0.00
0.00
Lendlease
13-May-20
6.00
BBB-
3.40
3.39
3.39
0.03
0.06
Melbourne Airport
4-Jun-20
5.00
A-
2.89
2.88
2.88
-0.01
0.03
Telstra
15-Jul-20
7.75
A
2.75
2.72
2.72
0.00
0.06
Perth Airport
23-Jul-20
6.00
BBB
3.17
3.15
3.15
-0.02
0.06
Mirvac Finance
18-Sep-20
5.75
BBB+
3.22
3.19
3.19
0.08
0.01
Brisbane Airport
21-Oct-20
6.00
BBB
3.25
3.23
3.23
0.02
0.08
Australia Post
13-Nov-20
5.00
AA
2.88
2.85
2.85
0.02
0.08
Stockland
25-Nov-20
8.25
A-
3.06
3.04
3.04
0.01
0.09
Univesity of Sydney
16-Apr-21
4.75
Aa1
2.82
2.79
2.79
0.00
0.09
Telstra
19-Apr-21
2.90
A
2.97
2.93
2.93
-0.02
0.07
Apple Inc
28-Aug-22
3.70
AA+
3.06
3.00
3.00
-0.04
0.10
Melbourne Airport
15-Sep-22
4.00
A-
3.46
3.43
3.43
0.00
0.07
Telstra
16-Sep-22
4.00
A
3.22
3.18
3.18
-0.01
0.12
CBA
27-May-24
4.75
AA-
3.42
3.36
3.42
0.14
0.24
Wells Fargo
27-Aug-24
4.75
A+
3.74
3.70
3.70
-0.03
0.13
Univesity of Sydney
28-Aug-25
3.75
Aa1
3.60
3.56
3.56
0.04
0.17
Westpac
4-Jun-26
4.13
AA-
3.82
3.77
3.77
-0.03
0.17
Apple Inc
10-Jun-26
3.60
AA+
3.58
3.51
3.51
-0.06
0.17
CBA
11-Jun-26
4.20
AA-
3.81
3.77
3.77
-0.03
0.16
ANZ
22-Jul-26
4.00
AA-
3.83
3.78
3.78
-0.03
0.18
NAB
21-Sep-26
4.00
AA-
4.06
3.94
3.94
-0.17
0.00
Qantas
12-Oct-26
4.75
BB+
4.65
4.50
4.50
-0.14
0.13
CBA
17-Nov-26
3.25
AA-
3.79
3.75
3.75
-0.02
0.19
Australia Post
1-Dec-26
4.00
AA
3.91
3.87
3.87
-0.03
0.19
Telstra
19-Apr-27
4.00
A
4.03
3.98
3.98
-0.01
0.19