Advanced-economy bond yields fell in the majority of cases and  other market were only the exception as bond yields remained essentially unchanged. Yields in Australia started the week with a couple of days of 1bp rises and then fell away for the rest of the week. In the U.S, bond yields fell each and every day as did European yields but with a mid-week upward blip.
Yields on Australian 3 year bonds slipped just the 1bp to finish the week at 2.14% while the 10 year bond lost 3bps to close at 2.82% and the yield on 20 year bonds decreased by 1bp to finish at 3.33%. U.S. bond yields fell  more than their Australian counterparts and the Australia-U.S. 10 year spread widened by 6bps to 54bps.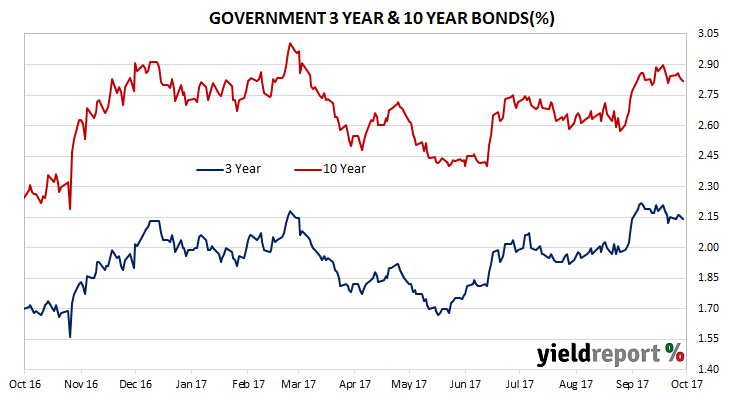 The focus of the week was divided between Catalan independence issues, any tidbits which might arise from the FOMC minutes and U.S. CPI and retail sales figures. Political uncertainty in Europe or the U.S. generally sends bond yields lower and that is exactly what occurred as Catalonia (sort of) declared independence from Spain. U.S yields were a little lower after the release of the FOMC minutes but their overall impact on yields is debatable. The minutes were released on Wednesday night (AEST) but apart from some debate over committee memebers' views on inflation, little of note came from them. September CPI figures were a little lower than expectations but retail fiures were strong and consumer sentiment was up.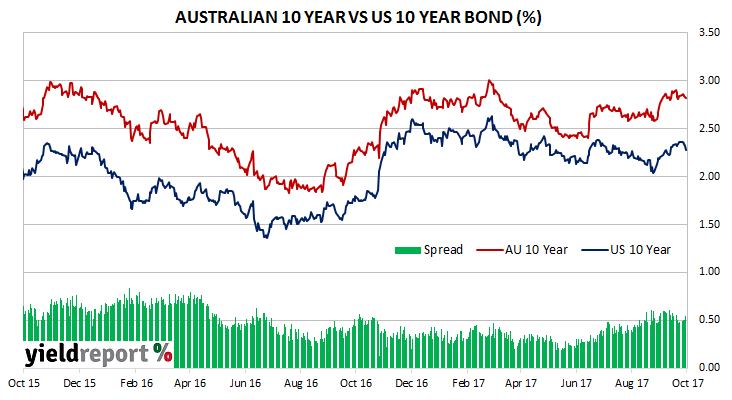 In U.S. markets the yield curve flattened as yields dropped by more at the long end. Yields on 2 year bonds lost 2bps to 1.50% while yields on both 10 year bonds and 30 year bonds fell by 8bps to 2.28% and 2.81% respectively. In European markets, 10 year bond yields mostly lost around 6-8bps with the exception of the U.K where they remained unchanged at 1.37%. In Germany, the 10 year yield fell by 6bps to 0.40%, French yields dropped 7bps to 0.66% and Italian bond yields fell by 8bps to 2.06%. Japanese bonds gained 1bp to 0.06%.
The AOFM had itself a small gorging in the local primary market this week. It choose to issue a new line of November 2022s via a tender rather than a syndicated tap, presumably because it already knew from where the demand would come. $3.5 billion of the bonds were issued with a coverage ratio was 3.68 so there was little trouble in putting the bonds to bed. The was also a $150 million issue of August 2040 ILBs and the coverage ratio for these was 2.6.
The AOFM also bought back $162 million October 2018s and $692 million October 2019s.
AUSTRALIAN GOVT BONDS
MATURITY
COUPON
(%)
ISSUE
SIZE ($M)
CLOSING
YIELD
Δ WEEK
Δ MONTH
WEEK
HIGH
WEEK
LOW
21-Jan-18
5.50
20500
1.68
-0.01
0.02
1.68
1.68
21-Oct-18
3.25
18100
1.78
-0.01
0.10
1.79
1.78
15-Mar-19
5.25
22947
1.82
-0.03
0.10
1.83
1.82
21-Oct-19
2.75
21700
1.92
0.00
0.07
1.94
1.91
15-Apr-20
4.50
23397
2.00
-0.01
0.10
2.01
1.99
21-Nov-20
1.75
15200
2.10
-0.01
0.11
2.12
2.10
15-May-21
5.75
24399
2.16
-0.01
0.13
2.18
2.16
21-Dec-21
2.00
13900
2.26
-0.01
0.14
2.28
2.26
15-Jul-22
5.75
21400
2.31
-0.02
0.14
2.34
2.31
21-Apr-23
5.50
21300
2.41
-0.02
0.16
2.44
2.41
21-Apr-24
2.75
24700
2.53
-0.03
0.18
2.56
2.53
21-Apr-25
3.25
26100
2.63
-0.02
0.20
2.66
2.63
21-Apr-26
4.25
29100
2.70
-0.02
0.20
2.73
2.70
21-Apr-27
4.75
25600
2.74
-0.02
0.21
2.78
2.74
21-Nov-27
2.75
10400
2.79
-0.02
0.21
2.83
2.79
21-May-28
2.25
7000
2.83
-0.03
0.21
2.87
2.83
21-Nov-28
2.75
11000
2.85
-0.03
0.21
2.90
2.85
21-Apr-29
3.25
12000
2.88
-0.03
0.21
2.92
2.88
21-Apr-33
4.50
10700
3.08
-0.02
0.20
3.11
3.08
21-Jun-35
2.75
5550
3.23
-0.02
0.20
3.26
3.23
21-Apr-37
3.75
8800
3.29
-0.01
0.20
3.32
3.29
21-Jun-39
3.25
4000
3.39
-0.01
0.20
3.42
3.39
21-Mar-47
3.00
7,600
3.58
-0.01
0.18
3.61
3.57