Bond yields barely moved in either local and offshore markets moved over the week. However, the small changes on a weekly basis hid some fairly volatile individual days.
Australian yields uncharacteristically ignored leads from their U.S. counterparts on any given day but by the end of the week local bond yields were a tad higher just as they were in other major markets. 3 year bond yields added another 2bps to finish at 1.97%, the 10 year yield gained 1bp to 2.56% while the 20 year bond yield remained unchanged at 3.04%. In the U.S. 10 year bond yields were 1bp higher and thus the Australia-U.S. 10 year spread widened by 1bp to 21bps.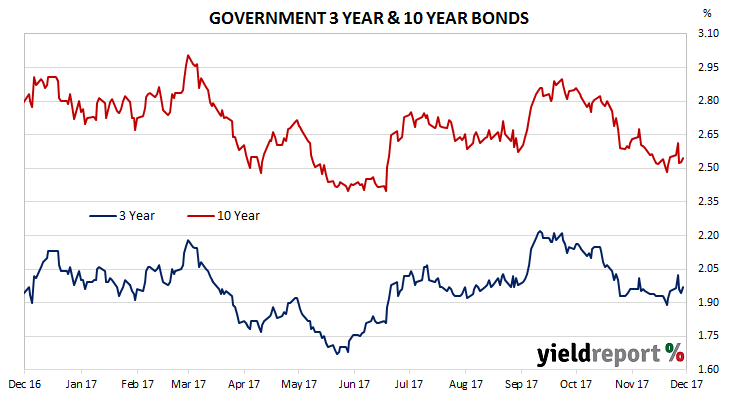 The U.S. market has been characterised by a flattening yield curve in recent weeks and months. Not this week. Yields of 2 year bonds, 10 year bonds and 30 year bonds all increased by the same 1bp. 2 year bonds finished at 1.79%, 10 year bonds at 2.37% and 30 year bonds finished at 2.77%. Non-farm payroll data came in a bit higher than expected but wage and salary growth was not high enough, even at 2.5%, to satisfy the pro-inflation lobby. On top of that, the University of Michigan consumer sentiment report indicated households were less confident at the end of November. Even if the U.S. Fed is expected to raise the federal funds rate in a few days' time, U.S. traders and investors have not shown a great willingness to raise yields along the curve except for those of 2 year bonds.
Yields were vaguely higher in European markets, although they dropped in Italy where the country's bond market is maintaining its reputation for negative correlation. In the U.K, the yield on 10 year gilts rebounded 5bps higher to 1.28%, German bund yields remained unchanged at 0.30%, French yields gained 2bps to 0.62%. Italian yields lost 5bps to 1.64%.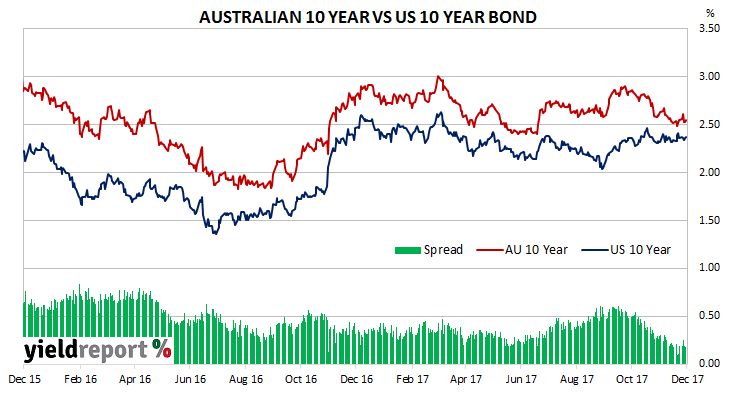 The AOFM held three Treasury bond tenders for a second week in a row but this week they were all for the sale of standard vanilla bonds and the were no ILB tenders. $400 million April 2029s, $900 million May 2028s and $500 million December 2021s were sold with coverage ratios of 3.8, 2.6 and 8.5 respectively. The one slightly unusual aspect of the week's tenders was the doubling of the Treasury note tender, which is typically $500 million, to $1 billion. The AOFM also bought back $215 million October 2018s and $185 million March 2019s.
The gross value of all bonds issued by the AOFM so far this financial year (not taking into account buy-backs or short term Treasury notes) is $43.55 billion.
AUSTRALIAN GOVERNMENT BONDS
MATURITY
COUPON
(%)
ISSUE
SIZE ($M)
CLOSING
YIELD
Δ WEEK
Δ MONTH
WEEK
HIGH
WEEK
LOW
21-Jan-18
5.50
20500
1.70
0.00
-0.01
1.71
1.70
21-Oct-18
3.25
18100
1.70
0.02
-0.07
1.70
1.68
15-Mar-19
5.25
22947
1.75
0.04
-0.04
1.76
1.72
21-Oct-19
2.75
21700
1.80
0.03
-0.08
1.84
1.77
15-Apr-20
4.50
23397
1.86
0.02
-0.08
1.91
1.84
21-Nov-20
1.75
15200
1.95
0.02
-0.09
2.00
1.92
15-May-21
5.75
24399
1.99
0.02
-0.10
2.05
1.97
21-Dec-21
2.00
13900
2.07
0.02
-0.11
2.13
2.05
15-Jul-22
5.75
21400
2.12
0.02
-0.12
2.18
2.10
21-Nov-22
2.25
3500
2.18
0.01
-0.14
2.24
2.16
21-Apr-23
5.50
21300
2.20
0.01
-0.15
2.27
2.18
21-Apr-24
2.75
24700
2.31
0.01
-0.18
2.37
2.29
21-Apr-25
3.25
26100
2.39
0.00
-0.21
2.45
2.37
21-Apr-26
4.25
29100
2.45
0.00
-0.22
2.52
2.43
21-Apr-27
4.75
25600
2.49
0.00
-0.24
2.56
2.47
21-Nov-27
2.75
10400
2.53
-0.01
-0.25
2.60
2.51
21-May-28
2.25
7000
2.56
-0.01
-0.25
2.63
2.54
21-Nov-28
2.75
11000
2.59
-0.01
-0.25
2.66
2.57
21-Apr-29
3.25
12000
2.62
-0.01
-0.25
2.69
2.60
21-Apr-33
4.50
10700
2.80
-0.01
-0.25
2.87
2.78
21-Jun-35
2.75
5550
2.95
-0.01
-0.26
3.02
2.93
21-Apr-37
3.75
8800
3.00
-0.02
-0.26
3.08
2.98
21-Jun-39
3.25
4000
3.10
-0.02
-0.27
3.17
3.08
21-Mar-47
3.00
7600
3.26
-0.03
-0.29
3.35
3.25