Semi-government spreads were about 0.5bps wider on average this week. Despite having raised $1.75 billion with a new benchmark, QTC spreads were not responsible any more than any other.
Here are a couple of diagrams which show who was interested in QTC's new benchmark August 2030 bonds. Pricing was set  at ACGB + 68.5bps.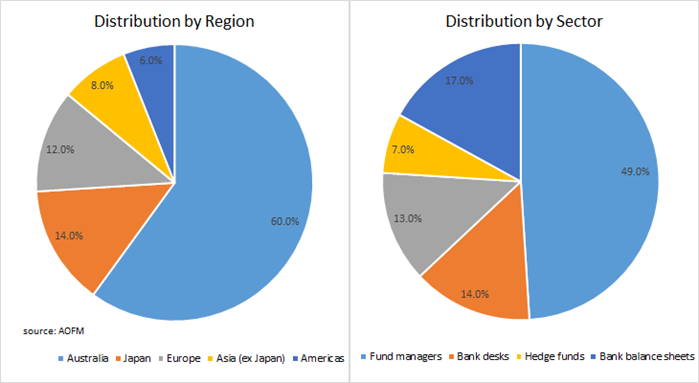 NTTC November 2022s were mentioned last week after its spread widened to 50bps. The market must have noticed because the spread tightened by an equivalent amount this week and the spread fell back to 45bps.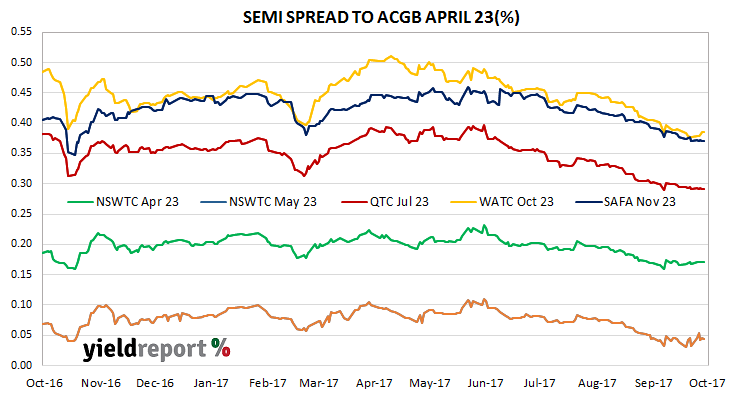 AUSTRALIAN SEMI GOVT BOND
ISSUER
MATURITY
COUPON
(%)
ISSUE
SIZE
WEEK
HIGH
WEEK
LOW
CLOSING
YIELD
Δ WEEK
Δ MONTH
NTTC
17-Nov-17
4.75
500
1.74
1.71
1.74
-0.01
0.04
TCV
17-Nov-17
3.50
2921
1.66
1.65
1.65
-0.02
-0.04
NSWTC
1-Feb-18
6.00
4512
1.73
1.72
1.73
-0.02
0.01
QTC
21-Feb-18
6.00
5562
1.69
1.68
1.68
-0.02
-0.02
ACTTREAS
7-Jun-18
5.50
550
1.78
1.77
1.77
0.01
-0.02
NTTC
20-Sep-18
4.75
500
1.92
1.91
1.91
-0.03
0.01
WATC
23-Oct-18
3.75
5386
1.88
1.86
1.86
-0.01
0.00
TCV
15-Nov-18
5.50
3993
1.88
1.87
1.87
-0.01
0.02
NSWTC
20-Mar-19
3.50
4103
1.93
1.91
1.91
-0.04
0.05
NSWTC
1-Apr-19
6.00
521
1.85
1.83
1.83
-0.03
0.04
QTC
14-Jun-19
6.25
3025
1.88
1.86
1.86
-0.04
0.01
QTC
21-Jun-19
4.00
5797
1.98
1.96
1.96
-0.04
0.01
SAFA
6-Aug-19
4.75
2000
1.99
1.97
1.97
-0.04
0.00
WATC
15-Oct-19
7.00
4491
2.11
2.08
2.08
-0.02
0.03
QTC
21-Feb-20
6.25
9686
2.13
2.11
2.11
-0.02
0.05
NSWTC
1-May-20
6.00
6055
2.13
2.11
2.11
-0.01
0.07
ACTTREAS
22-May-20
4.25
570
2.25
2.22
2.22
0.00
0.08
NSWTC
1-Jun-20
6.00
100
2.04
2.00
2.00
0.00
0.05
TASCORP
15-Jun-20
6.00
657
2.27
2.25
2.25
0.00
0.06
TCV
15-Jun-20
6.00
5982
2.15
2.13
2.14
-0.01
0.07
WATC
22-Jul-20
2.50
4484
2.27
2.26
2.26
0.00
0.05
NSWTC
8-Apr-21
4.00
3511
2.30
2.28
2.28
-0.02
0.12
SAFA
20-May-21
5.00
2045
2.35
2.33
2.33
-0.02
0.10
QTC
14-Jun-21
6.00
1120
2.26
2.23
2.23
0.00
0.11
QTC
21-Jun-21
5.50
7418
2.38
2.36
2.36
-0.01
0.11
WATC
15-Jul-21
7.00
3340
2.44
2.43
2.43
-0.02
0.10
NTTC
20-Sep-21
4.25
650
2.53
2.51
2.51
0.00
0.11
NSWTC
1-Mar-22
6.00
5629
2.43
2.40
2.40
-0.02
0.14
TASCORP
8-Mar-22
4.25
763
2.62
2.59
2.59
-0.02
0.12
ACTTREAS
11-Apr-22
4.25
550
2.56
2.52
2.52
-0.01
0.12
QTC
21-Jul-22
6.00
8208
2.55
2.52
2.52
-0.02
0.13
SAFA
22-Sep-22
1.50
1000
2.64
2.61
2.61
-0.03
0.10
TCV
17-Oct-22
6.00
6141
2.51
2.48
2.48
-0.02
0.13
WATC
20-Oct-22
2.75
2939
2.71
2.68
2.68
-0.02
0.13
NTTC
21-Nov-22
2.50
500
2.80
2.75
2.75
-0.08
0.11
NSWTC
20-Apr-23
4.00
4178
2.61
2.58
2.58
-0.02
0.16
NSWTC
1-May-23
6.00
889
2.49
2.45
2.45
-0.01
0.15
QTC
21-Jul-23
4.25
8093
2.73
2.70
2.70
-0.02
0.15
WATC
16-Oct-23
6.00
3274
2.82
2.79
2.79
-0.02
0.14
SAFA
20-Nov-23
4.25
1520
2.81
2.78
2.78
-0.02
0.13
NTTC
15-Mar-24
6.00
650
2.95
2.92
2.93
-0.01
0.17
TASCORP
11-Jun-24
4.00
757
2.97
2.93
2.93
-0.04
0.17
QTC
22-Jul-24
5.75
8024
2.87
2.84
2.84
-0.03
0.18
WATC
23-Jul-24
2.50
2072
3.06
3.03
3.03
-0.03
0.17
SAFA
15-Aug-24
2.25
750
2.99
2.95
2.95
-0.03
0.16
NSWTC
20-Aug-24
5.00
6300
2.78
2.74
2.74
-0.03
0.18
TCV
17-Dec-24
5.50
5147
2.81
2.77
2.77
-0.03
0.18
SAFA
16-Apr-25
2.75
1250
3.09
3.05
3.05
-0.03
0.17
QTC
21-Jul-25
4.75
6630
3.02
2.98
2.98
-0.02
0.19
WATC
23-Jul-25
5.00
3420
3.11
3.08
3.08
-0.02
0.17
TASCORP
19-Feb-26
3.25
590
3.23
3.19
3.19
-0.03
0.19
NTTC
15-Mar-26
6.00
650
3.21
3.18
3.18
-0.01
0.20
NSWTC
20-May-26
4.00
2623
2.99
2.95
2.95
-0.02
0.19
SAFA
20-Jul-26
3.00
1000
3.25
3.21
3.21
-0.03
0.18
QTC
21-Jul-26
3.25
4646
3.18
3.14
3.14
-0.02
0.21
TCV
17-Nov-26
5.50
3927
3.02
2.98
2.98
-0.02
0.20
QTC
20-Aug-27
2.75
1500
3.30
3.26
3.26
-0.02
0.21
SAFA
20-Sep-27
3.00
1500
3.43
3.40
3.40
-0.03
0.16
WATC
21-Oct-27
3.00
1058
3.23
3.19
3.19
-0.02
0.22
NSWTC
20-Mar-28
3.00
1878
3.40
3.36
3.36
-0.02
0.21
QTC
21-Jul-28
3.25
1000
3.37
3.33
3.33
-0.03
0.19
TCV
20-Oct-28
3.00
1401
3.28
3.24
3.24
-0.02
0.21
NSWTC
1-May-30
6.00
363
3.33
3.29
3.29
-0.03
0.20
NSWTC
20-Feb-30
3.00
696
3.44
3.40
3.40
-0.03
0.22
TCV
20-Nov-30
4.75
321
3.43
3.40
3.40
-0.02
0.23
TCV
20-Dec-32
4.25
384
3.61
3.57
3.57
-0.01
0.24
QTC
14-Mar-33
6.50
1210
3.65
3.61
3.61
-0.02
0.21
Issues underlined are guaranteed by the Commonwealth Government