04 August 2017
Australian consumers increased their spending, albeit at a slower rate, for a third month in row, according to June retail sales figures released by the ABS. Sales grew by 0.3% over the month, which is just over the +0.2% growth rate expected by markets but down on May's revised growth rate of +0.6% and April's 1.0%. On a year-on-year basis, sales grew by 3.8%, the same annual rate as in May's figures and the highest annual rate since March 2016.
The figures were described by ANZ senior economist Jo Masters as "a solid outcome given the strength in the previous two months." She said the figures were indicative of a strong contribution by private consumption to upcoming second quarter GDP figures but "we remain cautious about the outlook for consumption as households grapple with a variety of headwinds". These headwinds comprised "weak wage growth, high indebtedness, slowing house price growth and higher energy bills".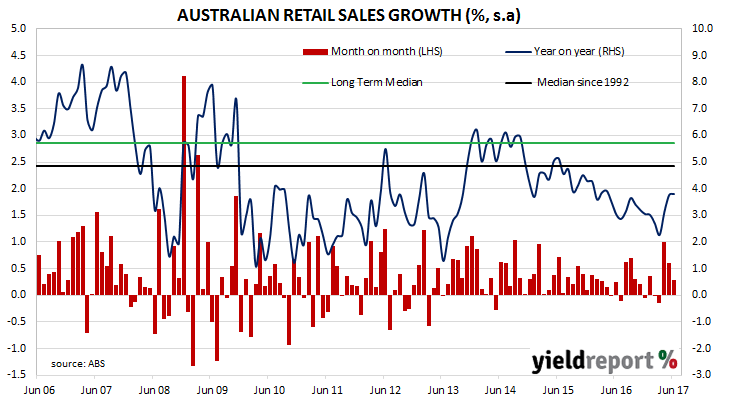 Westpac's Matthew Hassan viewed the figures in a slightly more positive light than his ANZ counterpart. "Overall this is a significant upside surprise. Although the retail survey is a partial measure that does not always map to the quarterly consumption figures in the national accounts, the jump from a flat Q1 to strong Q2 is a clear positive signal."
The RBA released its quarterly Statement on Monetary Policy on the same day, thus muddying the waters as to the effect of the retail figures. By the end of the day, the 3 year bond yield was 1bp lower at 1.93%, the 10 year bond yield was 5bps lower at 2.62% and the Aussie dropped by 0.20 U.S. cents to around 79.30 U.S. cents.
---