06 June 2017
By guest contributor Atchison Consultants
Australian real estate investment trusts (AREITs) continue to provide attractive relative yields in the current low interest rate environment. AREITs returned -1.1% over the month of May 2017, outperforming the broader Australian equities market, by 1.7%.
Despite absolute negative performance over the month, relative outperformance to the broader equities market is the continued movement towards 'flight to safety' investments amidst geopolitical risks and uncertainties.
The Retail AREIT sector (the largest constituent of the asset class) underperformed significantly over the month relative to Office and Industrial AREIT Sectors. Weaker performance of the Retail AREIT sector over the last few months is attributable to worse than expected sales values and sales volumes.
Valuation multiples of the AREIT sector are currently higher relative to long term averages. As at 31 May 2017, the yield spread for the AREIT sector above the 10-year Government bond yield was 3.3% p.a. Current yield spread is higher than the long term average spread (15 years to 31 May 2017) of 2.7% p.a.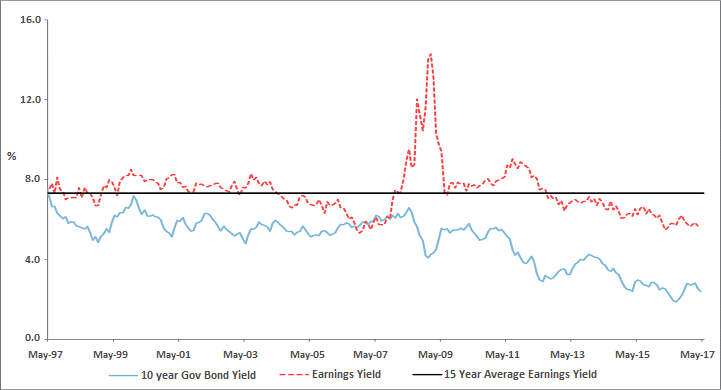 Forecast sector earnings yields as at 31 May 2017 were as follows.
Forecast Earnings Yields
| Sectors | Yield(%p.a) |
| --- | --- |
| Retail | 5.4 |
| Office | 6.0 |
| Industrial | 5.5 |
| Diversified | 6.1 |
Source: UBS
Yield expectations across the Office sector increased during the month of May 2017, attributable rental growth expectations outstripping overall price increases in the sector. Yield expectations marginally fell across the Retail, Industrial and Diversified sectors.
Despite the fall in bond yields over the month of May (attributable to heightened levels of geopolitical risks) a recovery in short to medium term bond yields is anticipated. This is being driven by stronger economic conditions and will consequently impact positively on the earnings yield potential from the AREIT sector.
Current earnings yield for AREITs remain attractive relative to bond yields. The earnings outlook for AREITs over the next twelve months remains positive albeit lower relative to previous years' highs. Movements in bond yields in the short to medium term, will be a big driver of return expectations from the AREIT sector.
---