25 September 2017
By guest contributor John Baini, CEO, TruePillars
There are various fixed income investing options available in the Australian market and we hold the view that peer-to-peer lending (also referred to as marketplace lending) deserved to be in the discussion.
A good starting point would be an evaluation of the risks of investing in the product closest to my heart: business loans. I've decided to do this by making a comparison to an investment class most investors are familiar with – dividend stocks.
Exploring listed equities
During this period of prolonged low interest rates, there has been an ongoing media narrative along the lines of yield-seeking investors having no alternative but to switch into dividend stocks. This is understandable with some of the better stocks yielding 8%-9%, the ASX 100 averaging just over 7% for the past 12-months and the All Ordinaries just over 4% over the past 30+ years. (Source: www.marketindex.com.au).

The question is what level of risk are investors taking in order to access these dividend yields?
Below is a chart showing the movements in the ASX 100 index over the last 10 years. I have specifically chosen the top 100 Australian listed stocks because these are often afforded the title "blue chips".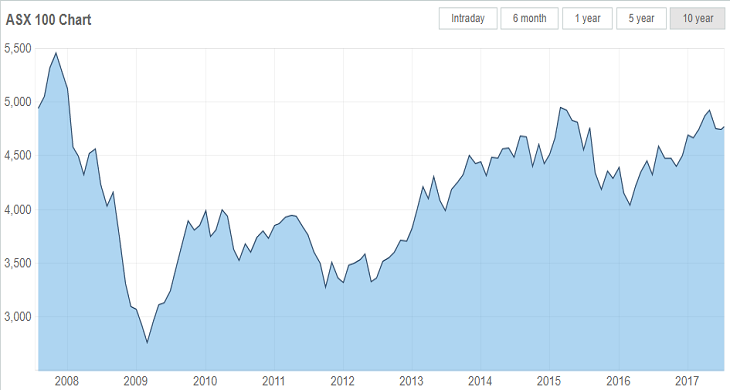 (Source: www.marketindex.com.au)
Whether over the whole 10-year period or any point in between, the one consistent theme is volatility. If you were unfortunate enough to start investing in a product that tracked the ASX 100 in 2007 you would still be waiting for your capital to recover losses.
If you entered the market in early 2009, you would be sitting on a very handsome return. There are many other periods during the last 10 years where investors with exposure to the ASX 100 will have made considerable capital gains, but the same is true for periods of significant losses.
During the period of late 2007 to early 2009 alone, the index moved 49% from a high of 5,454 to a low of 2,761. That's a lot of volatility and some investors will have actually seen their capital value halved over this period. The question is whether a yield of around 7% pa is fair return for this level of volatility to capital invested?
How do business loans compare?
Many investors may be surprised to learn that, by comparison, business loans are a far more stable asset type. Whilst volatility in default rates can also be significant, the impact on capital invested can be far less on a fully diversified loan portfolio.
Below is a chart depicting the percentage of non-performing loans on the books of Australian banks. These are loans that are in arrears or considered by banks to be in default and at risk of loss. As a percentage of each type of loan, all three broad categories (business, personal and housing loans) are currently below 2% non-performing. Some investors may also be surprised to see business lending have a lower non-performing percentage than personal lending based on the most recent data.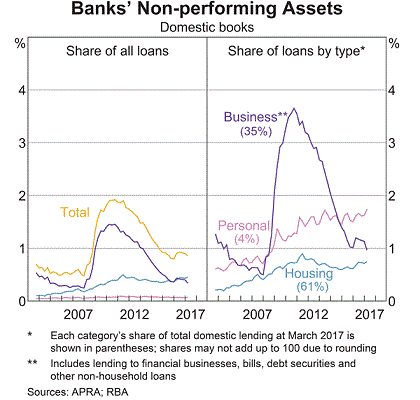 This chart can be accessed at http://www.rba.gov.au/chart-pack/banking-indicators.html
What also stands out is that around the time of the global financial crisis, there was a significant spike in the rate of non-performing business loans, which moved from under 1% to over 3% of total business loans. In pure volatility terms this is a large uplift, but at less than 4% of all business loans held by banks, what would this mean for the lender funding these loans?
The data does not disclose the average interest rate earned by the banks, but let's assume it was 8% per annum. If 3.8% of the loan book was ultimately lost over the course of one year, but the rest of the loan book paid 8% interest, then the bank would still be ahead. For example:
Total loan portfolio:       $1,000,000
Loans written off:               $38,000 (3.8%, around the high point in the graph)
Performing portfolio:        $962,000
Interest earned:                  $76,960 (8%)
Value at year end:         $1,038,960 (3.9% return on original $1 million)
The above calculation is very simplistic in its assumptions, but it demonstrates what all lending aims to achieve. That is, earn enough interest from performing loans to offset losses incurred on non-performing loans. Whilst this clearly demonstrates that capital is at risk, the underlying value of a diversified loan portfolio generally does not jump around as much as listed stock prices.
Diversification of exposures is a key element to managing investment risk, irrespective of whether you're investing in ASX listed stocks or business loans through a P2P platform.
What about liquidity?
One clear advantage of a blue-chip stock is that in most cases, it can be sold instantly via the stock exchange, which acts as a secondary market. P2P lending usually requires a set commitment of time. In the case of TruePillars, the commitment is equivalent to the maturity of the loan being funded. In our case, this is up to 5 years. Whilst capital is repaid monthly starting from the first month, it is still a long-term capital commitment for investors to make.
Some P2P platforms have recognised this risk and made efforts to provide investors with the opportunity to liquidate investments prior to scheduled maturity. At TruePillars, we have achieved this by offering incumbent investors the opportunity to offer their investment in a loan to another investor who is willing to replace them (we call this our Secondary Marketplace).
Since launching in November 2016, we have facilitated over 4,000 such transactions with investors taking the opportunity to re-balance their portfolios or to raise funds for another purpose outside the TruePillars platform.
Liquidity via a mechanism like the TruePillars Secondary Marketplace relies on another incoming investor wanting to make an investment identical to the one the outgoing investor is seeking to liquidate. This is not the same as a market exchange like the stock market, but aims to achieve a similar outcome.
Conclusion
I hope this article has helped in some small part to evaluate the risks of investing in business loans relative to dividend stocks. I have spent all my professional life in lending and am excited to be part of a platform that is giving investors the opportunity to build a portfolio of exposures to business loans. Aside from offering an important yield alternative for investors, these loans are directly helping Australian businesses grow.
---