25 September 2017
By guest contributor Alex Wong, analyst, Atchison Consultants
Australia is clearly now in a low interest environment.  The Reserve Bank set the cash rate at 1.50% in September 2016 where it currently remains. Investors are seeking alternative sources of income from the traditional options of term deposits or fixed income securities.
One alternative for investors seeking income is via dividends paid by Australian shares. Dividend yields from Australian shares have been providing consistent income for shareholders, with a historical dividend yield average of 4.4% over the past 10 years to August 2017 and currently yielding 4.2%.  The history of cash rates and dividend yields in Australia is shown in Chart below.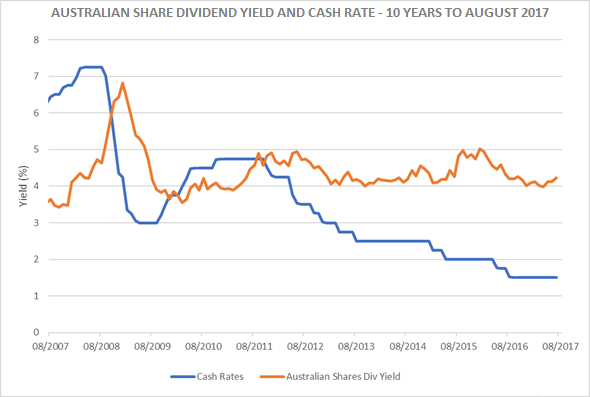 Source: RBA September 2017.
Benefits from investing in shares may include capital appreciation and franking credits on dividends. However, investing in equities is not without its pitfalls.  Investors may sustain capital losses through market falls and changes in dividend policy can have a detrimental impact.
Recently Telstra announced a dividend reduction from 31 cents to 25 cents per share and a move away from a 100% payout ratio to one in the range of 70% and 90% of earnings. Following the announcement, Telstra's share price fell by 10.6% and hit a five year low of $3.87. Telstra's dividend policy change serves as a reminder to investors about the volatile nature of equity investment.
Dividends depend upon the continuing profitability of companies.  If company profits are not growing then dividends will stagnate.  Through history the Australian experience is of growing dividends. As the Telstra experience illustrates, this is not necessarily assured.
Over the past 10 years the total return from Australian shares has been 3.6 % p.a. including income of 4.6% p.a. and capital growth of -1.0% p.a.
Dividends may be a solution for investors seeking income but investors should be mindful that in doing so they may be increasing the volatility of total returns. It is also worth noting, dividend amounts and payments do not have the certainty of interest payments, unlike term deposits or fixed income securities.
---