26 July 2017
Since 2006, the Governor of the RBA has given a speech to the Anika Foundation. These annual speeches have typically focused on longer term issues but they are capable of addressing issues which may have current relevance. In this year's speech, RBA chief Philip Lowe discussed labour market issues.
There were three main parts to the speech; employment trends, slow wages growth and the policy implications of each.
Employment trends
"Over the medium term, two trends in particular stand out. The first is the growth of part-time employment…"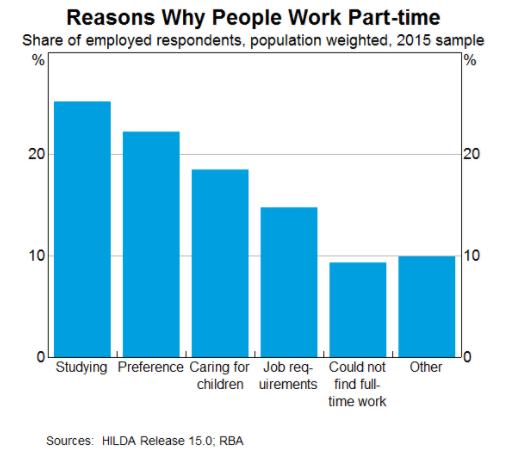 "…And the second is the growth of employment in the services sector."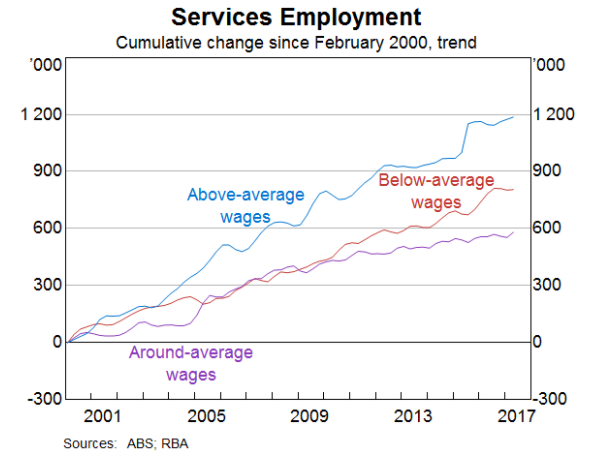 Slow wages growth
The RBA chief explained Australia's low rate of wage growth as a result of a combination of spare capacity, low productivity growth and a perception of greater competition from offshore businesses. He said evidence of this last factor can be seen in a decline in job mobility in Australia and it was a symptom of job insecurity. He also said fewer firms appeared willing to poach employees from other firms.
Policy implications
Lowe said these current employment trends plus slow wages growth has created "a challenge for central banks" as they have created an environment in which inflation has been persistently below target. He said the RBA was reluctant to push harder at increasing inflation because of medium term risks to financial stability which arise from excessive borrowing to finance asset purchases. "Over recent times you would have noticed that we have been paying close attention to the risks in household balance sheets. Household debt is high and rising faster than the unusually slow growth in incomes."
He finished with comments regarding overseas central banks' actions. He said the RBA had not dropped its official rate to the same degree as other central banks and it had not expanded its balance via asset purchases either. "Just as we did not move in lockstep with other central banks when the monetary stimulus was being delivered, we don't need to move in lockstep as some of this stimulus is removed…Our decisions will continue to be made within the framework of our medium-term inflation target. We are intent on delivering Australians an average rate of inflation over time of between 2% and 3%."
---