13 October 2017
Higher fuel prices have driven U.S. consumer inflation higher in September but less than by what economists had expected. Consumer price index (CPI) figures released by the Bureau of Labor Statistics indicated prices rose by 0.5% in September, just short of the market expectations of a 0.6% increase. On a 12-month basis the consumer inflation rate increased from August's 1.9% to 2.2%.
Fuel prices accounted for over 80% of the higher CPI. Core prices, a measure of prices which strips out food and energy price changes, rose by 0.1%, a fall from August's figure of 0.2%. Both the monthly and 12 month core figures were 0.1% under expectations. Annualised core inflation remained steady at 1.7% for a fifth month in a row.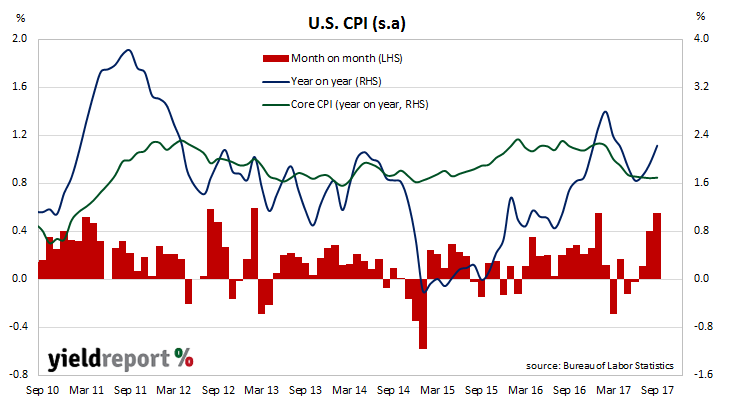 U.S 2 year yields inched down 1bp to 1.50% while 10 year yields dropped by 4bps to 2.28% and the U.S. dollar was weaker against the pound and yen but steady against the euro.
---