13 June 2017
Australia has matched the Netherlands' record of the most quarters without a recession. While Australia has had the odd quarter of negative GDP since 1991, it has not suffered two such consecutive quarters which is what would be required to fit the widely-acknowledged definition of a recession.
The latest figures released by the ABS indicated first quarter GDP grew by 0.3%, taking the year-on-year figure down to 1.7%. This was in line with the median forecasts and well above some of the more pessimistic forecasts made by some respected economists.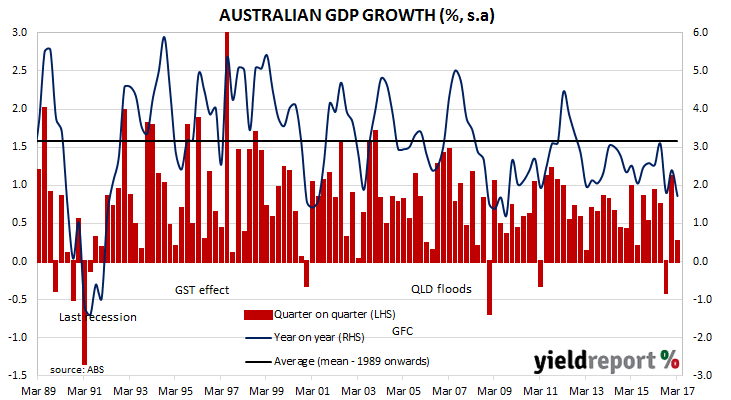 The quarterly figures were driven by business restocking, government and household expenditure while net exports and government investment held the total growth figure back. Private investment was essentially flat.
ANZ senior economist Felicity Emmett said the figures were not exactly encouraging. "Annual growth at an eight year low, with little prospect of any improvement in Q2, suggests that the economy is not running strongly enough to eat into spare capacity. This will clearly have implications for the trajectory of the unemployment rate and hence the outlook for wages."
However, there were some positives in the figures (aside from the obvious one of avoiding going backwards). Consumer spending was not as weak as retail sales data had suggested and, to some degree, Cyclone Debbie held back export volumes. It also appears if the investment contraction is nearing an end.
Markets seemed to have seen the best in the figures as currency markets immediately sent the AUD around 0.5 US cents higher to 75.50 US cents and bond yields rose. 3 year bond yields finished 5bps higher at 1.73% and 10 year yields were 2bps higher at 2.41%. Yields in U.S. bond markets had dropped moderately overnight so movements in Australian markets may have been somewhat subdued as a result.