10 October 2017
Australian business conditions remain close to the boom times of the mid-2000s and confidence has recovered. According to NAB's latest monthly business survey of 400 firms in late September, its Business Conditions Index remained unchanged at 14 (after revisions), while its Business Confidence Index increased by 2 points to 7.
Business confidence had taken a minor battering in August which was the result of a change in customer demand, margin pressure and government policy. The 2 point increase in September took the index back to just above its long-term average.
ANZ senior economist Daniel Gradwell thought the report provided reason to be positive about the Australian economy's outlook. "The details of the September report are encouraging and suggest that employment growth should remain solid. We see further evidence that the post-mining boom adjustment is nearly complete, and construction in the non-mining states will be an important part of Australia's growth."
Not every economist shared the ANZ' economist's view and Westpac senior economist Andrew Hanlon was not convinced. "The NAB business survey for September was positive overall, but conditions are uneven, which is concerning for the outlook."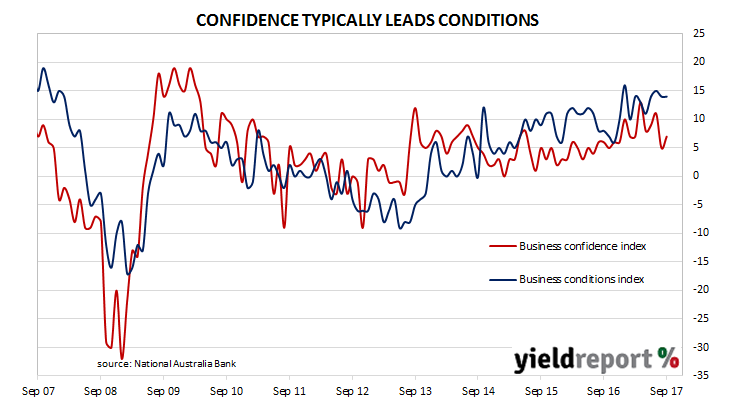 The capacity utilisation rate, generally accepted as an indicator of future investment expenditure, bounced back to 81.9% from its 81.6% reading in August. Sector capacity utilisation was at or above long-term averages for all sectors of the economy except for mining and transport and utilities.
The eight sectors into which the survey breaks the Australian economy are all performing well with one exception according to NAB chief economist Alan Oster. "Most industries are continuing to enjoy above average levels of business conditions. Retail is still the main exception, with conditions re-establishing a clear downward trend that has taken the index back into negative territory."
Bonds yields finished the day a little higher. 3 year bond yields added 2bps from 2.14% to 2.16% and 10 year bond yields added 1bp to 2.86%. The local currency rose a small amount to at around 77.75 U.S. cents.
---