13 June 2017
The Australia business sector is apparently still doing well despite mediocre consumer confidence. According to NAB's latest monthly business survey of 400 firms in late May, its Business Conditions Index fell 1 point to 12 from a revised reading of 13 in April, while its Business Confidence Index reversed April's 6 point rise and came back to 7, 1 point above its long term average.
The capacity utilisation rate, generally accepted as an indicator of future investment expenditure, increased from 81.4 to 82.4 and according to NAB, "utilisation rates are currently above long-run averages for most industries, which is encouraging for the investment…Only transport and mining sit below their long-run averages." However, the fall in the Business Confidence Index suggests there are some concerns present.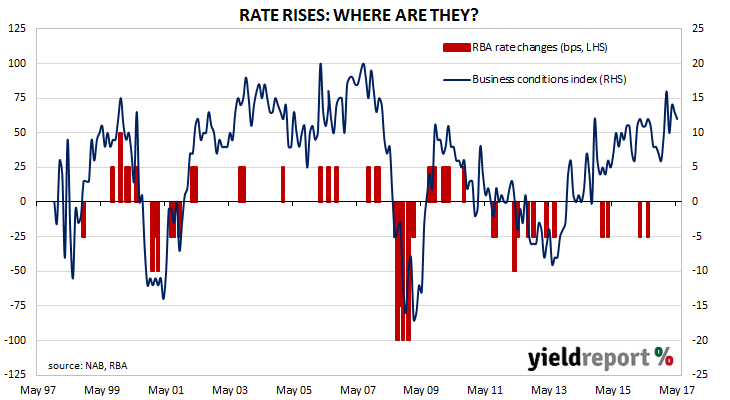 Trading conditions held steady at elevated levels but profitability and employment conditions slipped back, albeit from elevated levels. Alan Oster, NAB's chief economist said, "All three components of business conditions are looking quite solid, while the strength has also been relatively broad-based across industries, suggesting the recovery in conditions has become well entrenched."
Westpac economist Andrew Hanlon generally agreed. "Arguably, the survey suggests that the Australian economy is experiencing a trend improvement in underlying conditions after the slowdown in mid-2016, which was associated with the July Federal election." However, he still had some concerns. "The NAB survey indicates disappointing conditions in the consumer sectors: retail is soft, albeit up from its lows; and recreational and personal has moderated."
Bonds yields barely moved on the day. 3 year bond yields remained steady at 1.75% and 10 year bond yields edged down by 1bp to 2.43%. The local currency was largely unchanged and the Aussie remained around 75.4 US cents.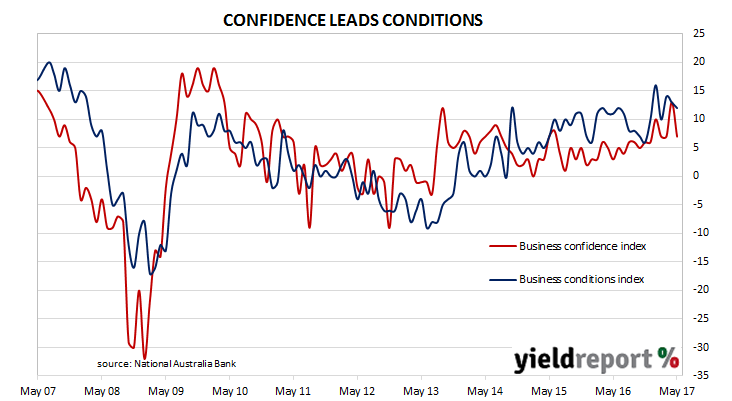 ---