06 October 2017
The U.S unemployment rate hit a new low since February 2001 after Hurricane Harvey and its effects distorted employment figures. According to the U.S. Bureau of Labor Statistics, the U.S. economy lost 33,000 jobs in the non-farm sector in September against expectations of an 88,000 gain. However, after revisions to previous months' figures, the unemployment rate dropped from 4.4% to 4.2% as over 331,000 people either found work in the farm sector or retired.
The total number of employed persons in the non-farm sector at the end of September was 146.7 million and 154.3 million overall. Over the past twelve months, 2.4 million jobs have been created in the U.S. with nearly 1.8 million of those in the non-farm sector. Another figure which is indicative of the strength of the U.S. economy is a higher employment-to-population ratio. In September the ratio jumped from 60.1% to 60.4%, while the participation rate increased from 62.9% to 63.10%.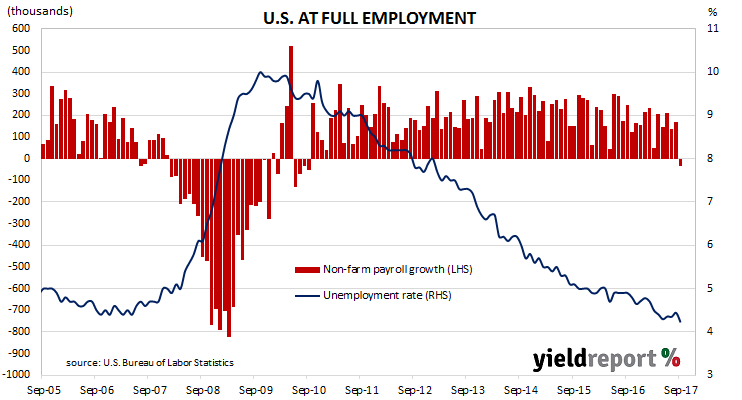 The average hourly pay rate rose by 2.9% over the last 12 months and it was this figure which grabbed the attention of investors and traders. The previous two months' pay growth figures had been 2.6% and 2.7% and some may have seen the higher rate as a sign of accelerating wage inflation. However, hourly pay rates have grown at 2.9% before in this cycle, such as in December 2016, but for some reason it commanded more attention and U.S. bond yields and the USD spiked on the announcement before dropping back. ANZ senior economist, Jo Masters thought this an overreaction and explained how the weather had distorted the figures. "[T]here was an 111,000 fall in the number of leisure and hospitality jobs over in September as tourists no doubt stayed away from the likes of Florida. These are the lowest income earners…When these jobs are added back, following hurricane normalisation, it will put downward pressure on average earnings."
According to cash futures prices, the implied probability of a rate rise by the U.S. FOMC at its December meeting is around 93%. Back in early July, the probability of December rate rise was deemed to be around 50%. The U.S. 2 year yield rose 4bps to 1.52% and the 10 year yield increased by 2bps to 2.36%. The U.S currency was mixed against other major currencies.
---