03 October 2017
ANZ's job advertisement survey is well-known as a leading indicator of employment numbers in Australia. It reflects changes in demand for labour and it provides another measure of activity in the economy. There is also a fairly good inverse relationship between changes in Australia's unemployment rates and changes in the RBA cash rate. Understanding the path of Australia's unemployment rate has historically provided a reliable indicator of RBA rate changes.
Figures for September have been released and, after revisions, total advertisements were effectively unchanged at 180,700 (seasonally adjusted), slightly down from August's revised figure of 180,786. On a 12 month basis, job advertisements were 12.5% higher, a fall from August's comparable figure of 13.3%.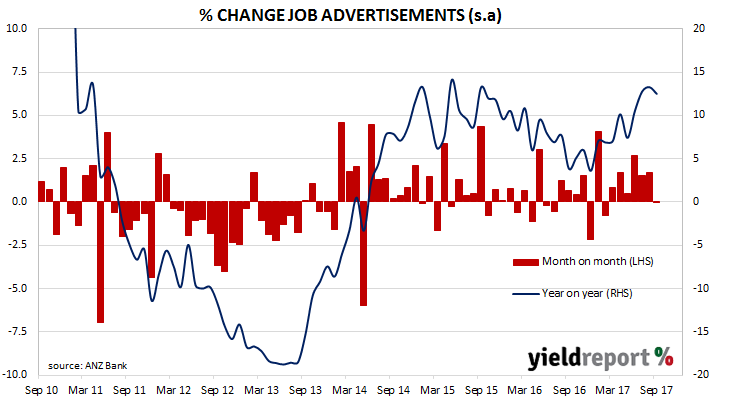 The inverse relationship between job advertisements and the unemployment rate is quite strong (see below chart). An increasing number of job advertisements as a proportion of the labour force should lead to lower unemployment rates.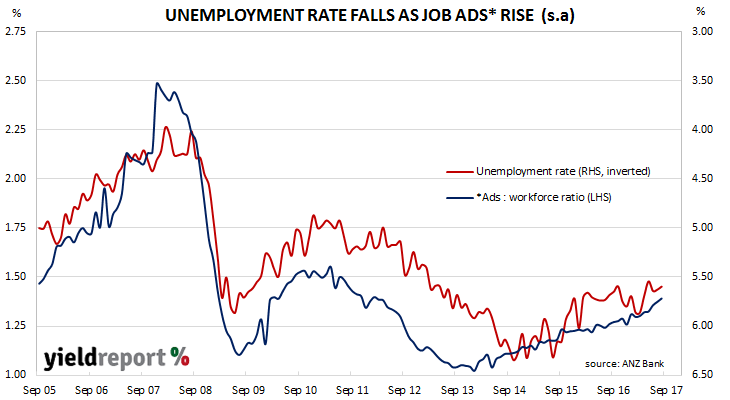 Felicity Emmett, ANZ senior economist, said some flat parts in an otherwise rising trend were to be expected.
"Some moderation in job ads is not too surprising after a solid six month run. In trend terms job ads continue to rise, albeit at a slightly slower pace. Similarly, employment has grown solidly for the past eleven months, catching up to and, in some cases, even overshooting forward labour market indicators.
She said recent business condition surveys were consistent with an improving labour market. "The strength in labour market conditions is consistent with elevated business conditions, which are at their highest point since the global financial crisis." More importantly, these conditions were likely to continue. "Notwithstanding the slight drop in August, profitability and capacity utilisation remain high, suggesting that labour market strength is likely to continue."
Bond yields were lower by the end of the day. Both 3 year and 10 year bond yields each lost 3bps to 2.18% and 2.87% respectively. The local currency was slightly higher against the USD and it finished at around 79.35 U.S. cents.
---