31 July 2017
Loans to the private sector continue to increase at a steady rate in June, driven by business loans and home loans to owner-occupiers. According to the latest RBA figures, private sector credit grew by 0.6%, up from May's figure of 0.4% and a higher than the 0.4% expected by the market. The year-to-June number of 5.4% was also higher than May's reading of 5.0%.
The larger-than-expected increase was almost equally driven by business loans and owner-occupier loans. These two types of lending account for most loans by value and thus any change in them has a greater effect in overall credit growth (see diagram below).
ANZ senior economist Daniel Gradwell said the strong business credit figures were encouraging "but we do not expect it to be sustained indefinitely. Business finance approvals have remained weak in recent months and suggest that growth in the stock of business credit is likely to ease from here."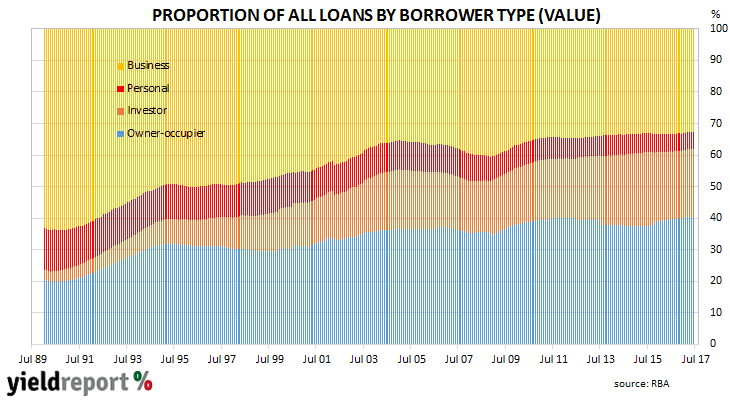 Growth in investor loans slowed again (+0.4%) during June but this type of loan grew by 7.4% on an annualised basis, which gives it the highest growth rate among the four categories (business, personal, investor, owner-occupier). However, according to the RBA, $1.3 billion of investor loans were reclassified as owner-occupier loans in June alone and an estimated $55 billion has been reclassified since July 2015.
In 1990 only 20% of bank loans by value were to purchase housing. Now the proportion of all loans used for housing purposes is over 60%. Such a high proportion of lending raises the question as to whether high property prices are diverting investment capital away from productive investment projects.