10 August 2017
The ASX will soon have another income-focused fund available for investors to trade when Metric Credit Partners (MCP) lists its MCP Master Income Trust (ASX code: MXT). MXT is targeting a minimum yield equal to the RBA cash rate plus 3.25% per annum which is currently around 4.75%, net of fees and costs. Distributions will be paid monthly.
The initial public offering (IPO) opens on 10 August 2017 and it is seeking to raise up to $500 million from investors in Australia and New Zealand at a unit price of $2.00. The offer is expected to close on 19 September 2017 and the units are scheduled to list on the ASX on 9 October 2017.
The Trust will be the first ASX-listed investment trust offering exposure to corporate lending. It will provide investors with exposure to a portfolio which reflects activity in the Australian corporate loan market, diversified by borrower, industry and credit quality. The trust initially will have exposure to over 50 individual investments with a near-term target of 75-100 individual investments.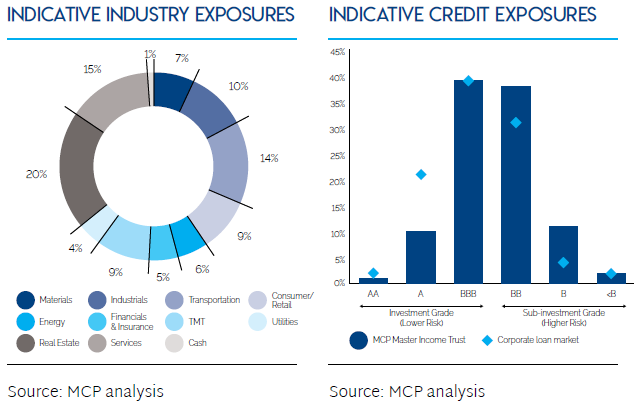 MXT initially will be a "fund of funds". It will obtain its exposure via a series of wholesale funds managed by the Metric Credit Partners team. The funds and their initial exposures will be as follows:
MCP Diversified Australian Senior Loans Fund  60-70%
MCP Secured Private Debt Fund II  20-30%
MCP Real Estate Debt Fund  10-20%
MCP was founded in 2011. 65% of its equity is owned by Justin Hynes, Andrew Lockhart, Graham McNamara and Andrew Tremain and the remainder is owned by National Australia Bank. The team at Metric Credit Partners currently manages wholesale funds with in excess of $2 billion of assets.
MCP's managing partner Andrew Lockhart said MXT presents a unique opportunity for investors to access an ASX-listed fixed income investment. "MXT offers investors exclusive access to the highly attractive risk-adjusted returns available in the corporate loan market, historically only available to regulated local and international banks.
"Fixed-income is a vital component of a balanced investment portfolio. Fixed-income investments offer predictable cash income with low risk of capital loss. We anticipate the IPO will resonate strongly with retail and SMSF investors, who have traditionally had low allocations to this asset class," he added.
MXT has received a "Recommended" rating from Lonsec for the IPO (which expires after listing), and Zenith Investment Partners plus a Subscribe rating from BondAdviser.
The fund's ongoing fees and expenses will be linked to the value of the capital raise and fund value. A sliding scale fee structure is used with expected ongoing management costs and expenses of between 0.60% p.a. and 0.86% p.a. depending on the value of the fund.
You can find out more about the MCP Master Income Trust IPO here.
---