15 June 2017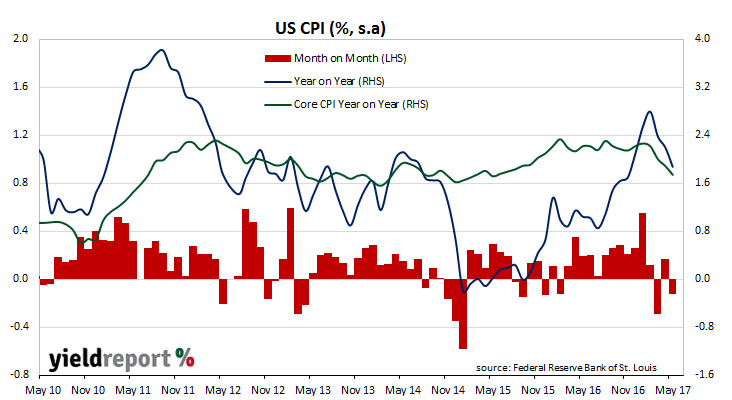 A 6.4% fall in petrol prices had driven the overall U.S. consumer inflation lower in May. Consumer price index (CPI) figures released by the Bureau of Labor Statistics indicated prices fell by 0.1% for the month, missing market expectations of a flat (0%) result. On a 12-month basis the CPI growth rate dropped back to 1.9% from April's comparable figure of 2.2%.
Core prices, a measure of prices which strips out food and energy price changes, rose by 0.1% for a second month in a row. Annualised core inflation dropped again for a third month in a row to 1.7% (seasonally adjusted) from April's 1.9%. The figures were under market expectations of a 0.2% rise; prices fell in the clothing and new/used vehicles segments and certain non-food and non-energy commodity prices fell.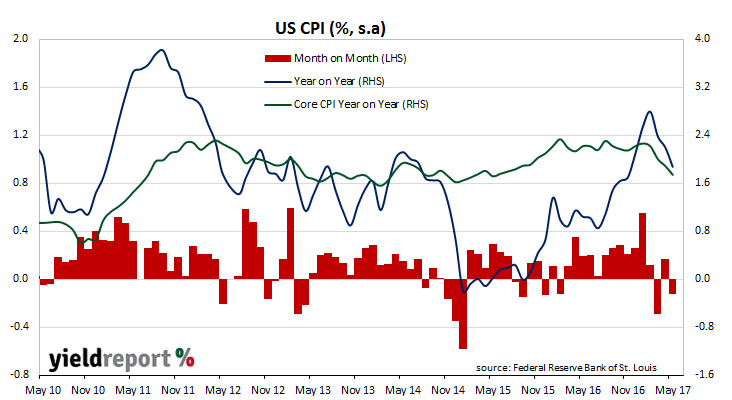 The CPI numbers were released on a busy day for economic reports and announcements. U.S. May retail sales data were released and the U.S. FOMC announced its new higher target range for the federal funds rate. On the day, U.S 2 year yields fell 4bps to 1.33%, U.S 10 year yields fell 8bps to 2.12% while the U.S. dollar was steady against the euro and sterling but weaker against the yen.
Although the consumer price index is not the U.S. Fed's preferred measure of inflation, rises and falls in the rate of CPI inflation are still important to many in the financial markets, as well as those in government. The Fed used the CPI until 2000 when it switched to core personal consumption expenditure (PCE) price inflation. However, it states it still uses a number of inflation measures, including the CPI.
---