05 October 2017
Australians seem to have decided to go on a nationwide diet in August. Retail sales of food fell by 0.6% during the month and purchases of food and beverages prepared outside the home also fell as spending in cafes and restaurants fell by 1.3%. These two segments plus household goods account for around nearly three quarters of all retail sales.
Total retail sales fell by 0.6% (seasonally adjusted) in August, after falling by 0.2% in July. On a year-on-year basis, sales grew by 2.1%, down from the 3.5% annual rate recorded in July. August is the fourth month in a row where the growth rate has fallen.
The figures took local markets by surprise. Firstly, economists were expecting sales to rise by +0.3%. Secondly, July's figures were also revised down from 0% to -0.2%. The local bond market and currency markets reacted by sending yields and the AUD lower. The yield on 3 year government bonds dropped 4bps to 2.12% while 10 year yields lost 3bps to 2.81%. The local currency was sold off against the USD and it finished about 0.7 U.S. cents lower at around 77.95 U.S. cents.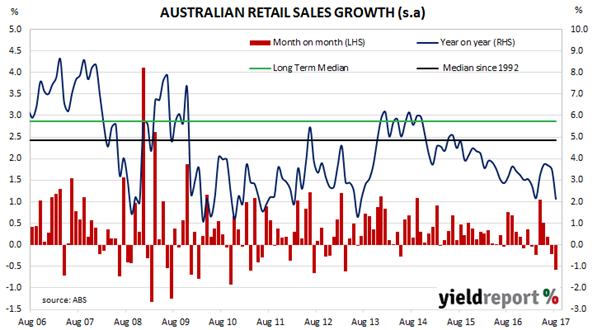 This is not the first time this year the retail sales annual growth figure has fallen close to 2%. After revisions, March's 12 month growth rate was 2.2% but then sales in April and May were especially strong and the growth rate jumped to 3.7%. However, this is still below the average rate of sales growth which is close to 5% since 1992.
ANZ senior economist Jo Masters, said the retail sector is facing an array of forces competing for households' expenditure. "The retail sector is undoubtedly facing challenging times given the impact of competitive pressures on pricing and retail volumes look set to be weak in Q3." However, there are other components of private consumption not included in retail sales. "That said, retail is now only around 30% of private consumption, suggesting that the GDP measure of household spending may not be as weak the retail data suggest."
Matthew Hassan, Westpac senior economist, made an interesting observation regarding the numbers. "Note that retail sales are in nominal terms so moves reflect both volume and price changes. We will get a better sense of how pricing has impacted with the release of the Q3 CPI later this month." Unlike his ANZ peer, he is somewhat concerned in regard to the consumption component of the upcoming GDP figures. "However, even if price discounting has been a bigger-than-expected factor, the underlying picture for Q3 retail volumes is still unlikely to look good, in turn pointing to significant downside risks to the Q3 consumption figures in the national accounts and wider GDP growth."
---