03 August 2017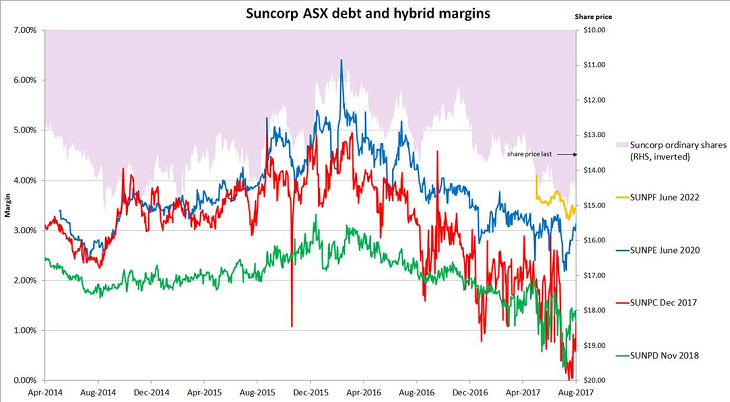 Suncorp announced its 2017 profit results and the market did not take them well. Ordinary shares fell nearly 6.5% on the day. Evans & Partners Head of Income Products Michael Saba noted the poor response of the market to the results and had a look at Suncorp's various hybrids which trade on the ASX.
"The recently-listed SUNPF (Suncorp Capital Notes) has shown some response to the share price weakness. Suncorp hybrid margins have been widening with the share price weakness prior to today.
Trading margins of Suncorp's various hybrids and notes did not rise materially on the day and, in the cases of Suncorp Notes (ASX code: SUNPD) and Suncorp Capital Notes (ASX code: SUNPF), trading margins actually fell a little.
However, Saba was surprised by this behaviour. His analysis suggests Suncorp's hybrid margins tend to rise and fall with Suncorp's ordinary share price (see his chart below).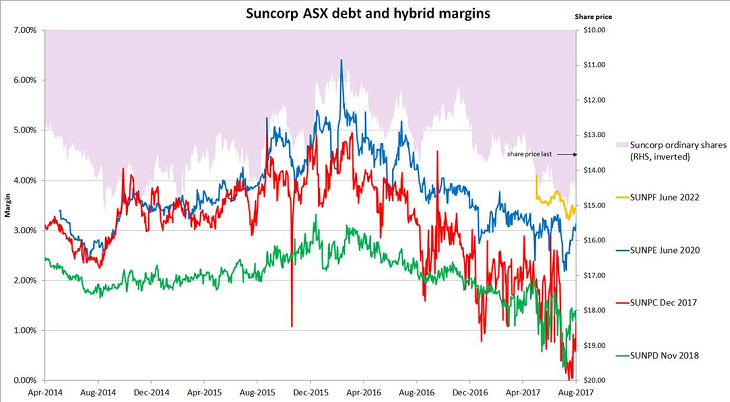 "Today's fall is not yet reflected and will depend on the share price level over the next week."
The chart below shows how Suncorp's various ASX-listed hybrids looked relative to other hybrids at the end of the day.