02 August 2017
One of the US Fed's favoured measures of inflation is core personal consumption expenditure (PCE). The core version of consumer spending strips out energy and food components, which are volatile from month to month, in an attempt to identify the prevailing trend. It's not the only measure of inflation used; the Fed also tracks the Consumer Price Index (CPI) and Producer Price Index (PPI) from the Department of Labor.
The latest core PCE figures have been published by the Bureau of Economic Analysis as part of June figures for personal income and expenditures. At 0.1% for the month and 1.5% year on year, the numbers were slightly above market expectations although they were in line with May's comparable figures after revisions. As ANZ put it, the figures were "a touch stronger than expected…Nevertheless, the current trend is still down."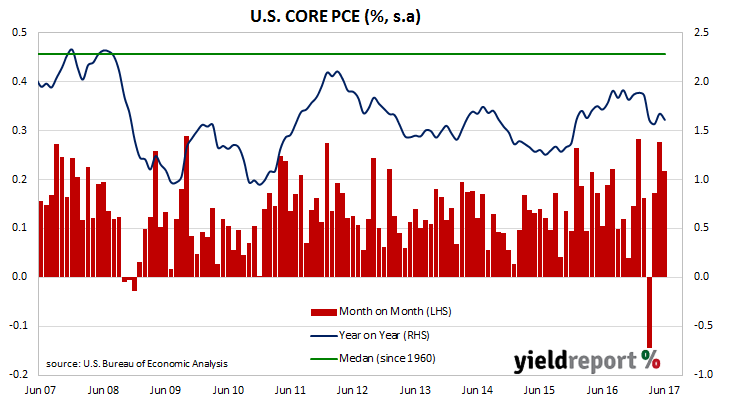 NAB senior economist David De Garis said the monthly changes in headline and core PCE deflators met expectations but they "reflected the still low inflation mould." US 2 year bond yields closed 2bps higher at 1.36%, while 10 year yields rose by the same amount to 2.27%. The U.S. dollar fell against the euro but rose against the yen.
---