Interest rate commentary for 20 Feb – 24 Feb 2017
Bond yields dropped around the globe as the terms "safe haven" and "risk-off" got trotted out again, this time not directly because of economic events but because of French politics. (The Greeks also deserve a mention but their particular can was kicked a little further down the road over the weekend.) Marine Le Pen's chance of becoming the next French president is having an effect. The line of thinking is this: Madame Le Pen wins the presidency, France withdraws from the EU in a "Frexit", gets its own currency back which, by the way, is the currency French bonds would pay on maturity, so French yields go up as holders sell. Where does the money go? German bunds, of course. Lower yields on German bunds make US Treasury bonds more attractive and so US yields drop as well. However, what will yields do if the US Fed raises the official rate in March?
CHART OF THE WEEK
After a couple of false starts and many many promises, could we only now be witnessing the start of a pick-up in the largest economy in the world. As with many things in life, only time will tell…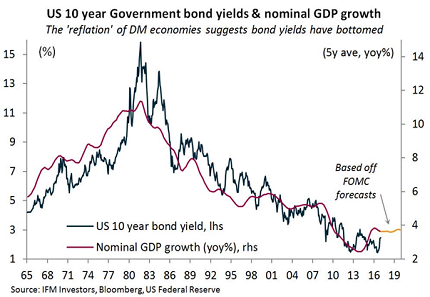 Close
△Week
Week
High
Week
Low
Cash Rate%
  1.50
90day Bank Bill%
1.78
0.00
1.78
1.78
Aust 3y Bond%*
1.99
-0.07
2.09
1.99
Aust 10y Bond%*
2.76
-0.07
2.88
2.75
Aust 20y Bond%*
3.37
-0.08
3.49
3.36
US 2y Bond%
  1.14
 -0.05
 1.21
 1.14
US 10y Bond%
2.31
-0.11
2.43
2.31
US 30y Bond%
2.95
-0.07
3.04
2.95
iTraxx
84.5
-3.63
88.5
84.5
$1AUD/US¢
76.69
-0.01
77.42
76.50
* Implied yields from March 2017 futures
Deposit-taking institutions have tended to reduce rates in recent times and this week was no different. Fortunately for term-deposit holders the cuts were few and not dreadfully large. See our term deposit rates tables for a comparison of rates from over forty institutions to help you find the right one.
In the ASX-listed notes space, one of the major banks announced a new issue of hybrids to replace the upcoming redemption of a subsidiary's ASX-listed Note. Margins were generally higher.
Corporate bond issuance was substantial with the usual suspects (financial institutions) behind the bulk of transactions in the primary market. It was also another week for bulky asset-backed security (ABS) transactions but this week, it was "only" $1.25 billion.
QTC was in the semi-government market again but this week it was joined by WATC.
We hope you enjoy reading this week's YieldReport.
January 2017 monthly interest rate commentary
Bond yields reversed direction, with larger falls at the short end. While the Trump reflation scenario lost momentum and caused long end yields to pause and then drop back, local data ensured short term yields were less likely to factor in official RBA rate rises during 2017/2018. Even a record Australian bond sale worth $9.3 billion failed to dent demand and by the end of the month, Australian 3 year bonds were.…Click here to read more
What is YieldReport?
YieldReport provides Australia's only independent analysis of the interest rate markets and interest rate securities. Access to our site and regular email updates is free and only requires registration.
What do I get?
YieldReport provides a weekly and monthly report on:
| | |
| --- | --- |
| Cash Accounts | Compare the top cash account rates and monitor wholesale market movements and expectations on future cash rates |
| Term Deposits | Instantly compare over 470 term deposits. These are genuinely quoted rates and YieldReport does not receive any commissions or fees for providing the data |
| Bonds | Get pricing data on government and corporate bonds, news and commentary on market movements, the prices for the latest debt issues and more |
| Hybrids | Compare hybrid issues, review the latest pricing and receive notification of upcoming new issues |
| Managed Funds | Compare dozens of managed Australian and international bond funds and ETFs |
Who is YieldReport for?
Self-directed investors
SMSFs
Financial planners
Advisers
Accountants
Board members
Corporate treasurers
Super funds
Not-for-profits
Councils
Statutory bodies
Sovereign wealth funds
Central banks
International fund managers
Local fund managers
Anyone dealing in cash or interest rate products will benefit from our independent analysis and price comparisons.
Why is independence important?
The vast majority of fixed interest securities are not traded on a public exchange hence pricing is opaque at best. In addition, fees are included in quoted prices and rarely disclosed. Most investors are at an information disadvantage to market dealers and this is likely to cost an investor money.