Interest rate commentary for 09 October – 13 October 2017
The Bank of England (BoE) looks set to begin the rate-rising phase shortly. Despite fears of recession from economists and the BoE after the Brexit vote in mid 2016, the British economy has begun to record inflation rates at the high end of the preferred range while its unemployment rate is closer to 4% than 5%. You can expect a rate rise out of the BoE shortly, possibly as early as at its MPC meeting in early November.
The U.S Fed is already well on the way of raising rates, having raised the federal funds rate first in December 2015, then in December 2016 and twice more since then. Another U.S rate rise is expected at the FOMC December meeting, despite an ongoing mantra of it all depending on inflation. The statements of U.S Fed officials, when considered together, gives the impression the Fed wishes to boil the frog slowly, thus avoiding taper tantrums and the like. However, the Fed also appears to wish to retain a level of plausible deniability regarding the very "guidance" which will push markets to a level of understanding of what the Fed is likely to do.
CHART OF THE WEEK
It is only a matter of time… August or November 2018 if you believe the predictive powers of Australia cash futures prices.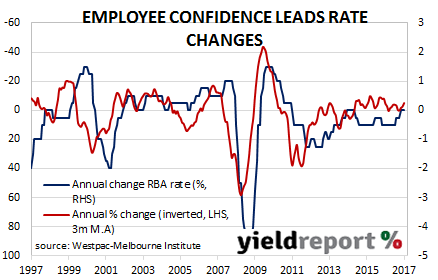 Close
△Week
Week
High
Week
Low
Cash Rate%
 1.50
90day Bank Bill%
1.71
 0.01
1.71
1.70
Aust 3y Bond%*
2.14
-0.01
2.18
2.13
Aust 10y Bond%*
2.82
-0.03
2.89
2.80
Aust 20y Bond%*
3.33
-0.01
3.36
3.30
US 2y Bond%
1.50
-0.02
 1.51
 1.50
US 10y Bond%
2.28
-0.08
2.36
2.28
US 30y Bond%
2.81
-0.08
2.90
2.81
iTraxx
69.8
0.80
69.8
69.6
$1AUD/US¢
78.89
1.13
78.91
77.51
* Implied yields from Dec 2017 futures
There was quite a bit of local data again but it had little effect on short term bond yields or expectations for RBA rate changes. Local cash market futures still imply one rate rise some time late next year. By now readers will be aware of how quickly these things can change.
There were hardly any rate changes at all among the term deposits in the YieldReport survey. Readers can find the few that there were as well as other useful information in our term deposit rate table.
The median trading margin of ASX-listed hybrids slipped just a little while the median trading margin of ASX-listed notes ticked up ever-so-slightly. Some trading margins have gone into the red, presumably as buyers line up for some possible advantage when it comes to eligibility for a replacement. If there is some other rationale behind locking in a rate less than BBSW, then that would be interesting. Then again, one should never underestimate the ability of asset markets to throw a spanner in the works of the efficient markets hypothesis and produce some good old-fashioned price anomalies.
For those readers interested in instant diversification of assets, the cash and bond segment of the ETF sector offers a tradable alternative to unlisted funds.  Diversification can be an issue for hybrid securities investors but soon there will be a solution; a hybrid ETF will soon be available.
As for readers who wish to be more involved with the composition of their investment portfolios, some of the peer-to-peer offerings currently available can be found here.
We hope you enjoy reading this week's YieldReport.
September 2017 monthly interest rate commentary
During September, bond yields rose in all advanced-economy markets. In Australia, yields on 3 year bonds increased by 15bps to finish at 2.18%, the 10 year bond yield increased by +16bps to 2.87% and the yield on 20 year bonds added 10bps to 3.35%. Australian bond yields lagged their U.S. counterparts' increases and the Australia-U.S. 10 year spread tightened by 5bps to 54bps.
The month started with 10 year bond yields around 2.74% and then trended down for just over a week as investors sought .…Click here to read more
What is YieldReport?
YieldReport provides Australia's only independent analysis of the interest rate markets and interest rate securities. Access to our site and regular email updates is free and only requires registration.
What do I get?
YieldReport provides a weekly and monthly report on:
| | |
| --- | --- |
| Cash Accounts | Compare the top cash account rates and monitor wholesale market movements and expectations on future cash rates |
| Term Deposits | Instantly compare over 470 term deposits. These are genuinely quoted rates and YieldReport does not receive any commissions or fees for providing the data |
| Bonds | Get pricing data on government and corporate bonds, news and commentary on market movements, the prices for the latest debt issues and more |
| Hybrids | Compare hybrid issues, review the latest pricing and receive notification of upcoming new issues |
| Managed Funds | Compare dozens of managed Australian and international bond funds, diversified income funds, cash funds, mortgage funds and ETFs |
| Peer-to-peer Loans | Compare current peer-to-peer investments and rates offered by peer-to-peer lenders |
Who is YieldReport for?
Self-directed investors
SMSFs
Financial planners
Advisers
Accountants
Board members
Corporate treasurers
Super funds
Not-for-profits
Councils
Statutory bodies
Sovereign wealth funds
Central banks
International fund managers
Local fund managers
Anyone dealing in cash or interest rate products will benefit from our independent analysis and price comparisons.
Why is independence important?
The vast majority of fixed interest securities are not traded on a public exchange hence pricing is opaque at best. In addition, fees are included in quoted prices and rarely disclosed. Most investors are at an information disadvantage to market dealers and this is likely to cost an investor money.