Interest rate commentary for 11 Sep – 15 Sep 2017
Government bond yields were significantly higher this week. The spotlight moved away from geopolitical issues (Kim the Third) and onto U.S. quit rates, British inflation and job creation in Australia. The tone regarding the tightening cycle changed and it appears as if traders and investors decided the days of low inflation and dovish central banks may indeed be coming to an end. The Fed is normalising interest rates and soon the BoE looks as if it will as well. All which is needed now is for the ECB to catch the same fever.
There were ructions in the local cash market as strong employment numbers caused traders to boost the likelihood of a rate rise in Australia. This comes in the context of U.S. and Canadian central banks firmly in the rate rising part of the cycle and a high likelihood of a rate rise in the U.K "over the coming months". The RBA has stated in the recent past it does not move in lockstep with other central banks but in an interconnected world, monetary policy trends tends to flow between countries in the same manner as the flow of goods, services and assets.
CHART OF THE WEEK
The quit rate times series produced by the JOLTS report is a leading indicator of U.S hourly pay. If wage inflation were to increase, higher overall inflation would result and provide the Fed with (another) reason to raise rates.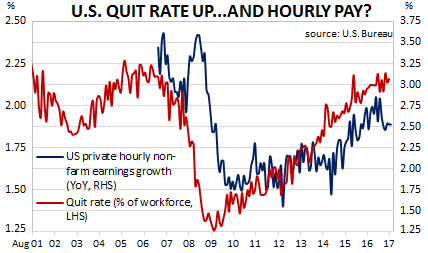 Close
△Week
Week
High
Week
Low
Cash Rate%
 1.50
90day Bank Bill%
1.73
-0.01
1.74
1.73
Aust 3y Bond%*
2.14
 0.13
2.16
2.01
Aust 10y Bond%*
2.77
 0.17
2.79
2.635
Aust 20y Bond%*
3.29
 0.16
3.30
3.16
US 2y Bond%
1.38
 0.11
 1.38
 1.31
US 10y Bond%
2.20
 0.15
2.20
2.13
US 30y Bond%
2.77
 0.10
2.79
2.74
iTraxx
66.6
-3.17
68.4
66.6
$1AUD/US¢
80.02
-0.51
80.59
79.56
* Implied yields from Dec 2017 futures
There were exceptionally few term deposit rate changes among the term deposits in the YieldReport survey and they were all reductions. Readers can find these changes and any others in our term deposit rate table rates.
The median trading margin of ASX-listed hybrids slipped a few basis points while the median trading margin of ASX-listed notes rose just as gently. Trading margin on most major bank hybrids were quite bunched but the same cannot be said for some of their regional cousins. As for anomalies in the listed notes and bonds segment, you have to have a certain minimum number of securities in order to identify those which are bunching and those which are not. Another security reached maturity and unless a few more are issued in 2018 and 2019 there will be less than half a dozen left.
For those readers interested in instant diversification of assets, the cash and bond segment of the ETF sector offers a tradable alternative to unlisted funds. The total value of cash and bond ETFs shrank by about 0.4% but this was after a week in which the total grew by around 5.6%.
Readers who wish to be more involved with the composition of their investment portfolios, some of the peer-to-peer offerings currently available can be found here.
We hope you enjoy reading this week's YieldReport.
August 2017 monthly interest rate commentary
Bond yields barely moved in most parts of the world and this included Australia this week. Locally, yields on both 3 year and 10 year bonds added 2bps to 2.00% and 2.66% respectively. The 20year bond yield added just the 1bp to 3.19%.
However, there were a couple of days in which local yields swung up or down by noticeable amounts. On the day North Korea sent an ICBM over Japan, yields dropped without exception around the world. Then, the next day .…Click here to read more
What is YieldReport?
YieldReport provides Australia's only independent analysis of the interest rate markets and interest rate securities. Access to our site and regular email updates is free and only requires registration.
What do I get?
YieldReport provides a weekly and monthly report on:
| | |
| --- | --- |
| Cash Accounts | Compare the top cash account rates and monitor wholesale market movements and expectations on future cash rates |
| Term Deposits | Instantly compare over 470 term deposits. These are genuinely quoted rates and YieldReport does not receive any commissions or fees for providing the data |
| Bonds | Get pricing data on government and corporate bonds, news and commentary on market movements, the prices for the latest debt issues and more |
| Hybrids | Compare hybrid issues, review the latest pricing and receive notification of upcoming new issues |
| Managed Funds | Compare dozens of managed Australian and international bond funds, diversified income funds, cash funds, mortgage funds and ETFs |
| Peer-to-peer Loans | Compare current peer-to-peer investments and rates offered by peer-to-peer lenders |
Who is YieldReport for?
Self-directed investors
SMSFs
Financial planners
Advisers
Accountants
Board members
Corporate treasurers
Super funds
Not-for-profits
Councils
Statutory bodies
Sovereign wealth funds
Central banks
International fund managers
Local fund managers
Anyone dealing in cash or interest rate products will benefit from our independent analysis and price comparisons.
Why is independence important?
The vast majority of fixed interest securities are not traded on a public exchange hence pricing is opaque at best. In addition, fees are included in quoted prices and rarely disclosed. Most investors are at an information disadvantage to market dealers and this is likely to cost an investor money.